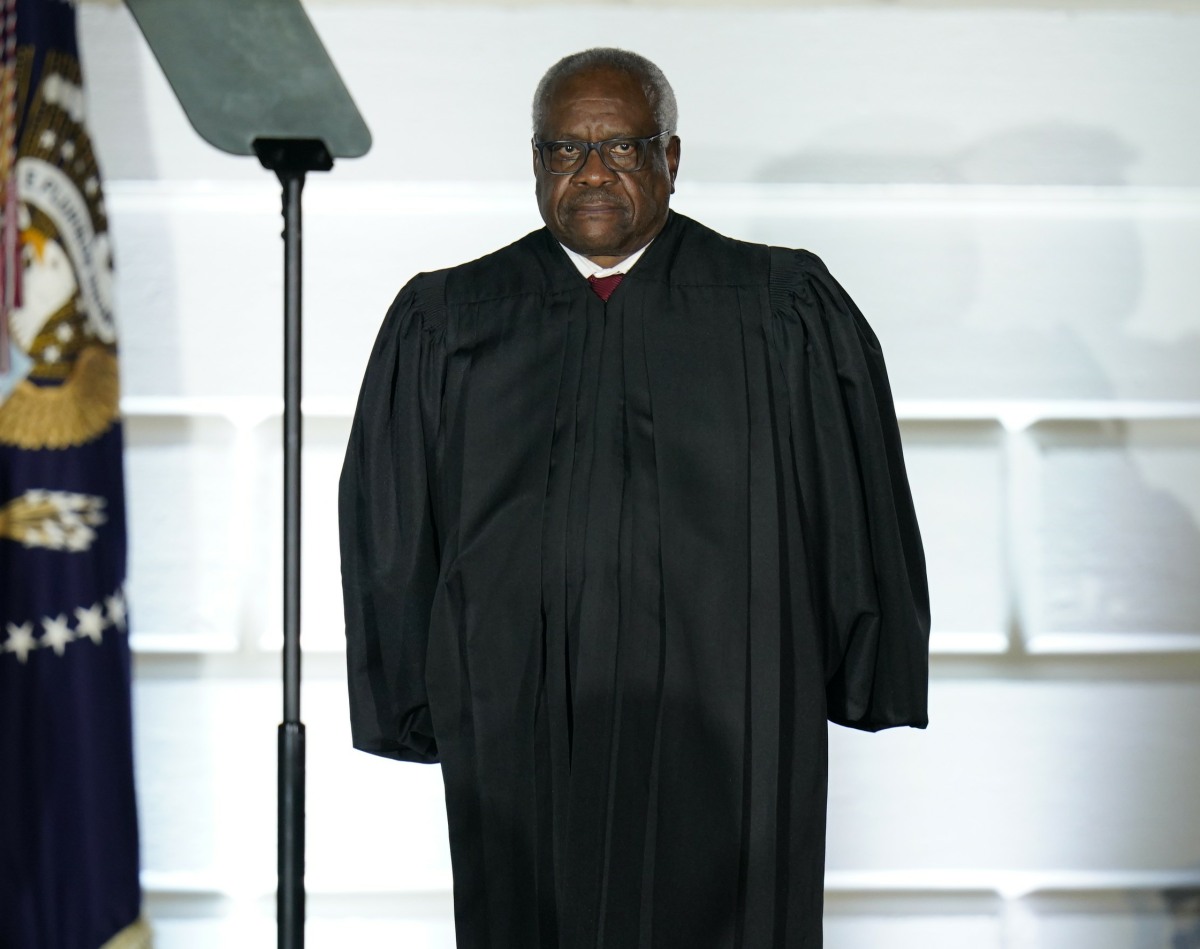 It's both deeply unsettling and completely unsurprising to watch the conservative justices on the Supreme Court assume an air of wounded grievance in the wake of the "leak." Less than a week ago, Politico reported that the Supreme Court would overturn Roe v. Wade. The opinion was not due to come out until late June or early July, so the only thing that's happened is that all hell broke loose a little earlier than previously scheduled. Chief Justice Roberts then whined that "one bad apple" (meaning, the leaker) should not make Americans lose faith in the Supreme Court, like they hadn't dismantled the reproductive rights of tens of millions of women and shredded the legal principle of "right to privacy." Well, now repugnant degenerate Clarence Thomas has some thoughts to share:
Justice Clarence Thomas on Friday told a group of judges and lawyers at the 11th Circuit Judicial Conference in Atlanta that "the events of earlier this week" show that if people cannot "live with outcomes we don't agree with," then the integrity of the judicial branch of government is undermined. Thomas, whose wife urged the Trump administration to work to overturn Joe Biden's 2020 election win, decried what he perceived as a lack of respect for institutions. "It bodes ill for a free society," the justice said in a question-and-answer session conducted by one of his former clerks, adding that it is not right that these institutions "give you only the outcome you want, or can be bullied" into issuing a desired ruling. Thomas, 73, also lamented the "different attitude of the young" toward these institutions.
[From The Daily Beast]
Clarence Thomas's wife Ginni helped organize the January 6th insurrection because she didn't like the outcome of a free and fair election. She, along with thousands of other Americans, decided to "bully" elected leaders by committing acts of terrorism in and on the Capitol Building. In addition to that, since the Politico leak, there have been additional barriers and fences added to the Supreme Court building – a reminder that the Supreme Court said that buffer zones around abortion clinics infringed on free speech.
Meanwhile, people have been reading through the 98-page opinion overturning Roe, and there is a reference, made by Amy Coney Barrett, to the "domestic supply of infants." The passage: "Nearly 1 million women were seeking to adopt children in 2002 (ie, they were in demand for a child), whereas the domestic supply of infants relinquished at birth or within the first month of life and available to be adopted had become virtually nonexistent." As in, the Supreme Court is gutting reproductive rights so that women will have more babies to replenish the domestic supply of infants available for adoption. It's sickening. Stomach-churning.
Feels like this has been largely overlooked, but Alito's draft Supreme Court opinion on abortion uses the phrase "domestic supply of infants." It's real, on page 34. DOMESTIC SUPPLY OF INFANTS. pic.twitter.com/VuQWTJ4NHd
— Brandon Friedman (@BFriedmanDC) May 6, 2022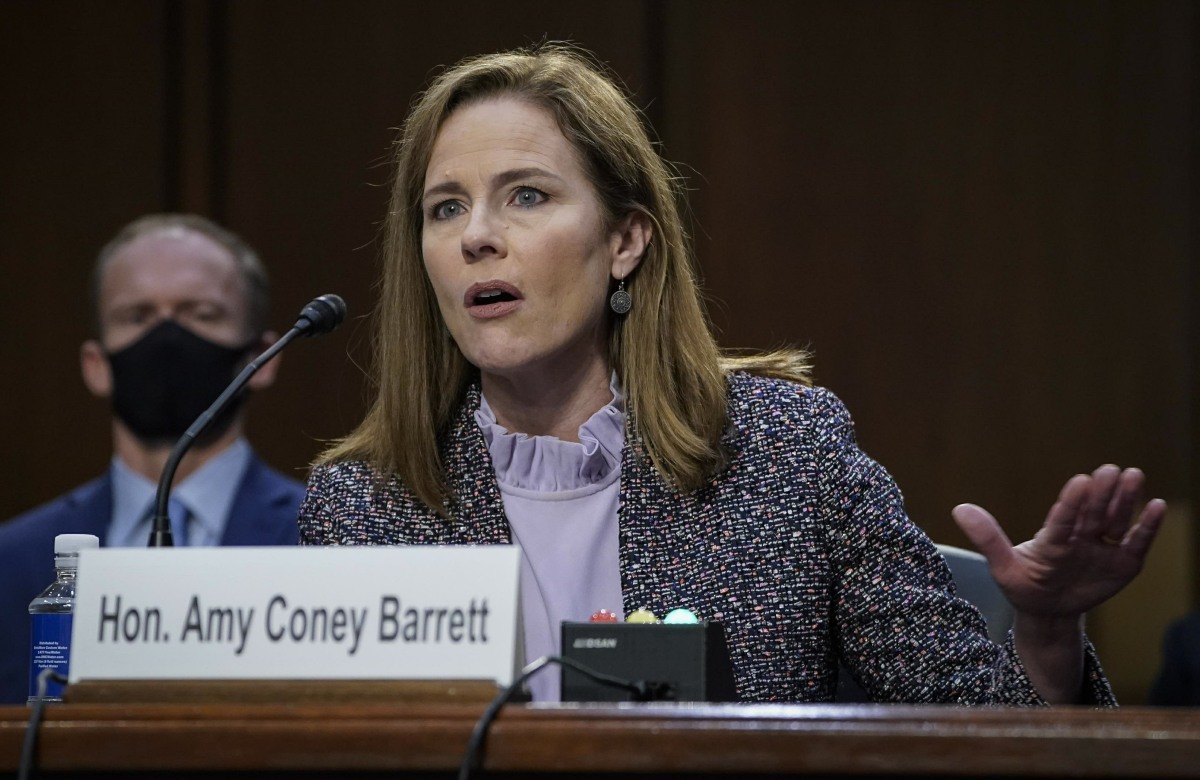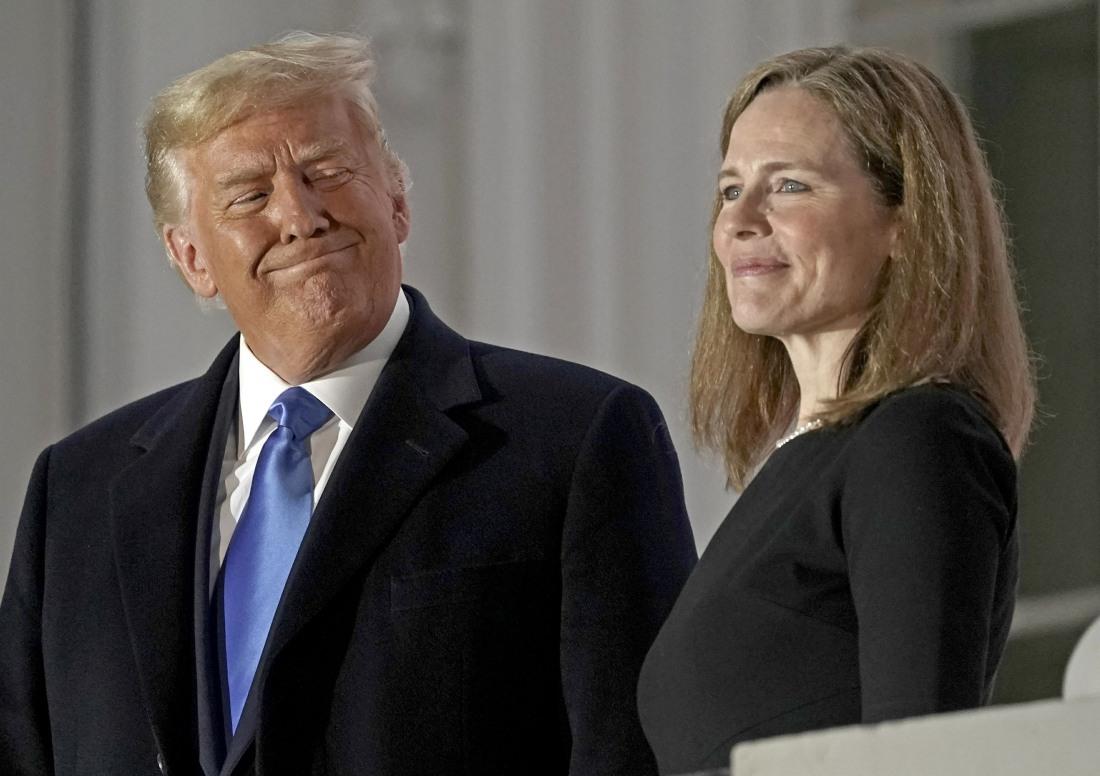 Photos courtesy of Avalon Red, Backgrid and Instar.
-Washington, District of Columbia – 20210423-Supreme Court of the United States 2021 Group Photo Members of the Supreme Court pose for a group photo at the Supreme Court in Washington, DC on April 23, 2021. Seated from left: Justice Samuel A. Alito, Jr., Justice Clarence Thomas, Chief Justice John G. Roberts, Jr., Justice Stephen G. Breyer, and Justice Sonia Sotomayor, Justice Brett Kavanaugh, Justice Elena Kagan, Justice Neil M. Gorsuch and Justice Amy Coney Barrett. -PICTURED: Justice Samuel A. Alito, Jr., Justice Clarence Thomas, Chief Justice John G. Roberts, Jr., Justice Stephen G. Breyer, and Justice Sonia Sotomayor, Justice Brett Kavanaugh, Justice Elena Kagan, Justice Neil M. Gorsuch and Justice Amy Coney Barrett -PHOTO by: Erin Schaff/POOL/CNP/startraksphoto.com -042321_Supreme-Court-Pool_016 This is an editorial, rights-managed image. Please contact Startraks Photo for licensing fee and rights information at sales@startraksphoto.com or call +1 212 414 9464 This image may not be published in any way that is, or might be deemed to be, defamatory, libelous, pornographic, or obscene. Please consult our sales department for any clarification needed prior to publication and use. Startraks Photo reserves the right to pursue unauthorized users of this material. If you are in violation of our intellectual property rights or copyright you may be liable for damages, loss of income, any profits you derive from the unauthorized use of this material and, where appropriate, the cost of collection and/or any statutory damages awarded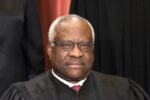 Associate Justice Clarence Thomas poses for a group photograph at the Supreme Court building on June 1 2017 in Washington, DC.,Image: 513106017, License: Rights-managed, Restrictions: WORLD RIGHTS- Fee Payable Upon Reproduction – For queries contact Avalon.red – sales@avalon.red London: +44 (0) 20 7421 6000 Los Angeles: +1 (310) 822 0419 Berlin: +49 (0) 30 76 212 251, Model Release: no, Credit line: Olivier Douliery / Avalon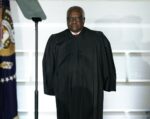 Associate Justice of the Supreme Court Clarence Thomas waits to administer the oath of office to Judge Amy Coney Barrett to be Associate Justice of the Supreme Court on the South Lawn of the White House in Washington, DC on Monday, October 26, 2020. US President Donald J. Trump and her husband Jesse M. Barrett look on.,Image: 565706222, License: Rights-managed, Restrictions: usage worldwide, Model Release: no, Credit line: Chris Kleponis / DPA Picture Alliance / Avalon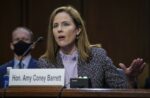 Washington, D.C. – United States Senator Ben Sasse (Republican of Nebraska) speaks as Judge Amy Coney Barrett appears before the Senate Judiciary Committee on day three of her confirmation hearings to become an Associate Justice of the U.S. Supreme Court on Capitol Hill in Washington, DC on Wednesday, October 14, 2020. The hearings are expected to last four days. If confirmed, Barrett will replace Justice Ruth Bader Ginsburg, who died last month. Pictured: Judge Amy Coney Barrett Confirmation Hearings BACKGRID USA 14 OCTOBER 2020 BYLINE MUST READ: MediaPunch / BACKGRID USA: +1 310 798 9111 / usasales@backgrid.com UK: +44 208 344 2007 / uksales@backgrid.com *UK Clients – Pictures Containing Children Please Pixelate Face Prior To Publication*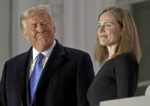 Washington, DC – Associate Justice of the Supreme Court Clarence Thomas administers the oath of office to Judge Amy Coney Barrett to be Associate Justice of the Supreme Court on the South Lawn of the White House in Washington, DC. Pictured: President Donald J. Trump, Amy Coney Barrett BACKGRID USA 26 OCTOBER 2020 BYLINE MUST READ: MediaPunch / BACKGRID USA: +1 310 798 9111 / usasales@backgrid.com UK: +44 208 344 2007 / uksales@backgrid.com *UK Clients – Pictures Containing Children Please Pixelate Face Prior To Publication*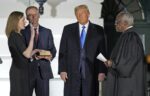 Washington, DC – Associate Justice of the Supreme Court Clarence Thomas administers the oath of office to Judge Amy Coney Barrett to be Associate Justice of the Supreme Court on the South Lawn of the White House in Washington, DC. Pictured: President Donald J. Trump, Amy Coney Barrett, Clarence Thomas BACKGRID USA 26 OCTOBER 2020 BYLINE MUST READ: MediaPunch / BACKGRID USA: +1 310 798 9111 / usasales@backgrid.com UK: +44 208 344 2007 / uksales@backgrid.com *UK Clients – Pictures Containing Children Please Pixelate Face Prior To Publication*