The Duke and Duchess of Cambridge have not worked since March 29th, which is when they appeared at Prince Philip's memorial service. They jetted off shortly after that, flying to Courchevel with their kids and with Kate's parents. They are, I believe, still on that ski holiday. We have no way of knowing, because no one in the British media cares enough to question William and Kate's private plane use, laziness, or continuous disappearing acts. Anyway, Chris Ship reports that – obviously – Harry and Meghan didn't see the Cambridges on their brief trip to Windsor.
The Duke and Duchess of Sussex, who are living in the US after quitting royal duties, made a surprise visit to see the Queen and Prince Charles at Windsor Castle on Thursday on their way to the Invictus Games in The Hague. But ITV's royal editor Chris Ship said Harry did not see his brother the Duke of Cambridge while in Britain. Mr Ship told ITV News: "One person he didn't see while he was in the UK was his brother William."
Do I think that Harry and Meghan timed their layover specifically for the Cambridges' vacation? No, I don't. I think it was a happy accident as far as the Sussexes were concerned. It's not like Harry would have tried to see his brother even if William had been in the country, honestly. And I have serious doubts as to whether Harry even saw Prince Charles, and if so, how long that meeting lasted. Are you interested in Robert Jobson's take on all of this? Eh.
Royal expert Robert Jobson says William's absence from the pivotal moment was 'significant', telling The Mirror: "Significantly, Prince William and Catherine were not involved in these 'clear the air' chats. Hopefully, in time the royal brothers too can break bread and end this new war of the Wales's, which is in danger of turning into one of the fictional soap style dramas Meghan used to star in… For William to do that, however, Harry will have to show that he (and his team of PR image gurus and advisers) can keep their counsel at this early and delicate stage. If not, this promising development would all have been for nothing."
What's funny about that is Jobson and the other royal reporters and commentators were completely caught off guard by the Sussexes' visit because they had not gotten any leaks from Montecito, Clarence House or Kensington Palace. Montecito keeps their sh-t tight. Clarence House is capable of playing it close to the vest. But William is the one who leaks like a sieve, not Harry. William is the one who has trouble "keeping his counsel." William is the one who sends employees out to the press to openly smear his brother and sister-in-law.
Also: LMAO.
Photos courtesy of Instar, Backgrid.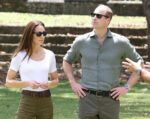 North America Rights Only – Caracol, Belize -20220321- The Duke and Duchess of Cambridge look out from the Caana at Caracol, an ancient Mayan archaeological site deep in the jungle in the Chiquibul Forest in Belize, during their tour of the Caribbean on behalf of the Queen to mark her Platinum Jubilee. -PICTURED: Prince William, Catherine Duchess of Cambridge -PHOTO by: INSTARimages.com Disclaimer: This is an editorial, rights-managed image. Please contact INSTAR Images for licensing fee and rights information at sales@instarimages.com or call +1 212 414 0207. This image may not be published in any way that is, or might be deemed to be, defamatory, libelous, pornographic, or obscene. Please consult our sales department for any clarification needed prior to publication and use. INSTAR Images reserves the right to pursue unauthorized users of this material. If you are in violation of our intellectual property rights or copyright you may be liable for damages, loss of income, any profits you derive from the unauthorized use of this material and, where appropriate, the cost of collection and/or any statutory damages awarded For images containing underage children: Be advised that some Countries may have restricted privacy laws against publishing images of underage children. Inform yourself! Underage children may need to be removed or have their face pixelated before publishing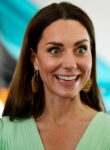 North America Rights Only – Nassau, Bahamas -20220325-Royal Visit to the Caribbean – Day 7 The Duke Duchess of Cambridge in Nassau, Bahamas, on day seven of their tour of the Caribbean on behalf of the Queen to mark her Platinum Jubilee. -PICTURED: Catherine Duchess of Cambridge -PHOTO by: PA IMAGES/INSTARimages.com Disclaimer: This is an editorial, rights-managed image. Please contact INSTAR Images for licensing fee and rights information at sales@instarimages.com or call +1 212 414 0207. This image may not be published in any way that is, or might be deemed to be, defamatory, libelous, pornographic, or obscene. Please consult our sales department for any clarification needed prior to publication and use. INSTAR Images reserves the right to pursue unauthorized users of this material. If you are in violation of our intellectual property rights or copyright you may be liable for damages, loss of income, any profits you derive from the unauthorized use of this material and, where appropriate, the cost of collection and/or any statutory damages awarded For images containing underage children: Be advised that some Countries may have restricted privacy laws against publishing images of underage children. Inform yourself! Underage children may need to be removed or have their face pixelated before publishing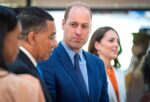 Kingston, JAMAICA – Prince William, Duke of Cambridge and Catherine, Duchess of Cambridge have an official meeting with Jamaican Prime Minister Andrew Holness and his wife Juliet Holness at the Prime Minister's Office in Kingston. Pictured: Prince William, Duke of Cambridge, Catherine, Duchess of Cambridge BACKGRID USA 23 MARCH 2022 USA: +1 310 798 9111 / usasales@backgrid.com UK: +44 208 344 2007 / uksales@backgrid.com *UK Clients – Pictures Containing Children Please Pixelate Face Prior To Publication*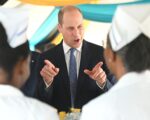 Nassau, BAHAMAS – Prince William and wife Kate Middleton, Catherine, Duchess of Cambridge pictured Meeting with Key Workers at the Garden of Remembrance, Nassau, Bahamas, Recognising the impact of COVID-19 in The Bahamas, The Duke and Duchess will meet key workers who have been on the frontline of the response to the pandemic. They will hear about their experiences and thank them for their incredible work in helping to keep local communities safe. Pictured: Prince William BACKGRID USA 25 MARCH 2022 USA: +1 310 798 9111 / usasales@backgrid.com UK: +44 208 344 2007 / uksales@backgrid.com *UK Clients – Pictures Containing Children Please Pixelate Face Prior To Publication*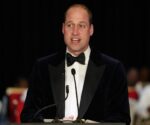 North America Rights Only – New Providence, Bahamas -20220325-The Duke and Duchess of Cambridge attend a reception hosted by the Governor General of the Bahamas Sir Cornelius Alvin Smith, at the Baha Mar resort on the island of New Providence in the Bahamas to with meet community leaders and people from across the Bahamas' many islands, on day seven of their tour of the Caribbean on behalf of the Queen to mark her Platinum Jubilee -PICTURED: Prince William -PHOTO by: PA IMAGES/INSTARimages.com Disclaimer: This is an editorial, rights-managed image. Please contact INSTAR Images for licensing fee and rights information at sales@instarimages.com or call +1 212 414 0207. This image may not be published in any way that is, or might be deemed to be, defamatory, libelous, pornographic, or obscene. Please consult our sales department for any clarification needed prior to publication and use. INSTAR Images reserves the right to pursue unauthorized users of this material. If you are in violation of our intellectual property rights or copyright you may be liable for damages, loss of income, any profits you derive from the unauthorized use of this material and, where appropriate, the cost of collection and/or any statutory damages awarded For images containing underage children: Be advised that some Countries may have restricted privacy laws against publishing images of underage children. Inform yourself! Underage children may need to be removed or have their face pixelated before publishing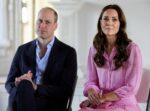 North America Rights Only – Abaco, Bahamas -20220326- The Duke and Duchess of Cambridge during a visit to Daystar Evangelical Church Abaco in The Bahamas, to learn about the impact of Hurricane Dorian in 2019 and to see how communities are still being rebuilt, on day eight of their tour of the Caribbean on behalf of the Queen to mark her Platinum Jubilee. Abaco, a chain of islands and barrier cays in the northern Bahamas, was hit by winds of up to 185mph during Hurricane Dorian in 2019 leaving 75% of homes across the chain of islands damaged and resulting in tragic loss of life. During a visit to Fish Fry in Abaco, a traditional Bahamian culinary/. During a visit to the Memorial Wall to remember victims of the 2019 hurricane at the Memorial Garden in Abaco. During a visit to Grand Bahama Children's Home, which provides a home environment to vulnerable children who are not able to live with their families -PICTURED: Prince William, Catherine Duchess of Cambridge -PHOTO by: INSTARimages.com Disclaimer: This is an editorial, rights-managed image. Please contact INSTAR Images for licensing fee and rights information at sales@instarimages.com or call +1 212 414 0207. This image may not be published in any way that is, or might be deemed to be, defamatory, libelous, pornographic, or obscene. Please consult our sales department for any clarification needed prior to publication and use. INSTAR Images reserves the right to pursue unauthorized users of this material. If you are in violation of our intellectual property rights or copyright you may be liable for damages, loss of income, any profits you derive from the unauthorized use of this material and, where appropriate, the cost of collection and/or any statutory damages awarded For images containing underage children: Be advised that some Countries may have restricted privacy laws against publishing images of underage children. Inform yourself! Underage children may need to be removed or have their face pixelated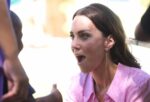 North America Rights Only – Grand Bahama, Bahamas -20220326- The Duke and Duchess of Cambridge during a visit to Daystar Evangelical Church Abaco in The Bahamas, to learn about the impact of Hurricane Dorian in 2019 and to see how communities are still being rebuilt, on day eight of their tour of the Caribbean on behalf of the Queen to mark her Platinum Jubilee. Abaco, a chain of islands and barrier cays in the northern Bahamas, was hit by winds of up to 185mph during Hurricane Dorian in 2019 leaving 75% of homes across the chain of islands damaged and resulting in tragic loss of life. During a visit to Fish Fry in Abaco, a traditional Bahamian culinary/. During a visit to the Memorial Wall to remember victims of the 2019 hurricane at the Memorial Garden in Abaco. During a visit to Grand Bahama Children's Home, which provides a home environment to vulnerable children who are not able to live with their families -PICTURED: Catherine Duchess of Cambridge -PHOTO by: INSTARimages.com Disclaimer: This is an editorial, rights-managed image. Please contact INSTAR Images for licensing fee and rights information at sales@instarimages.com or call +1 212 414 0207. This image may not be published in any way that is, or might be deemed to be, defamatory, libelous, pornographic, or obscene. Please consult our sales department for any clarification needed prior to publication and use. INSTAR Images reserves the right to pursue unauthorized users of this material. If you are in violation of our intellectual property rights or copyright you may be liable for damages, loss of income, any profits you derive from the unauthorized use of this material and, where appropriate, the cost of collection and/or any statutory damages awarded For images containing underage children: Be advised that some Countries may have restricted privacy laws against publishing images of underage children. Inform yourself! Underage children may need to be removed or have their face pixelated before p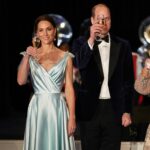 North America Rights Only – New Providence, Bahamas -20220325-The Duke and Duchess of Cambridge attend a reception hosted by the Governor General of the Bahamas Sir Cornelius Alvin Smith, at the Baha Mar resort on the island of New Providence in the Bahamas to with meet community leaders and people from across the Bahamas' many islands, on day seven of their tour of the Caribbean on behalf of the Queen to mark her Platinum Jubilee -PICTURED: Catherine Duchess of Cambridge and Prince William -PHOTO by: PA IMAGES/INSTARimages.com Disclaimer: This is an editorial, rights-managed image. Please contact INSTAR Images for licensing fee and rights information at sales@instarimages.com or call +1 212 414 0207. This image may not be published in any way that is, or might be deemed to be, defamatory, libelous, pornographic, or obscene. Please consult our sales department for any clarification needed prior to publication and use. INSTAR Images reserves the right to pursue unauthorized users of this material. If you are in violation of our intellectual property rights or copyright you may be liable for damages, loss of income, any profits you derive from the unauthorized use of this material and, where appropriate, the cost of collection and/or any statutory damages awarded For images containing underage children: Be advised that some Countries may have restricted privacy laws against publishing images of underage children. Inform yourself! Underage children may need to be removed or have their face pixelated before publishing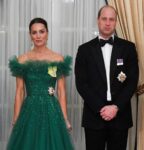 North America Rights Only – London, UK -20220323- Prince William and Catherine Duchess of Cambridge arrive for a dinner hosted by Patrick Allen, Governor General of Jamaica, at King's House, in Kingston, Jamaica, on day five of the royal tour of the Caribbean on behalf of the Queen to mark her Platinum Jubilee. -PICTURED: Prince William, Catherine Duchess of Cambridge, Patrick Allen, Lady Patricia Allen -PHOTO by: PA Images/INSTARimages.com Disclaimer: This is an editorial, rights-managed image. Please contact INSTAR Images for licensing fee and rights information at sales@instarimages.com or call +1 212 414 0207. This image may not be published in any way that is, or might be deemed to be, defamatory, libelous, pornographic, or obscene. Please consult our sales department for any clarification needed prior to publication and use. INSTAR Images reserves the right to pursue unauthorized users of this material. If you are in violation of our intellectual property rights or copyright you may be liable for damages, loss of income, any profits you derive from the unauthorized use of this material and, where appropriate, the cost of collection and/or any statutory damages awarded For images containing underage children: Be advised that some Countries may have restricted privacy laws against publishing images of underage children. Inform yourself! Underage children may need to be removed or have their face pixelated before publishing