Here are some photos from Day 4 of the Platinum Jubbly. The Cambridge family was back in London, as was Prince Charles, the Duchess of Cornwall, the Tindall family and the York princesses, among others. They all went to the Jubbly Parade, and the royals and politicians were once again seated in VIP seating, just like at the Jubbly Concert the night before.
The difference for the parade was that Prince Louis joined his siblings and he was bored out of his mind. He wanted to play with his second-cousins. He wanted to sing, to dance, to be loud and rambunctious. Which is fine. He's four years old, a lot of little boys are like that. You would think that a credible expert on Early Years would understand that Louis is probably too young to behave for a long parade. You would think that coloring books would be provided or that – gasp – Louis's parents would have just let him misbehave and be done with it. Instead. Kate kept getting in his face and telling him to watch the parade. He put his hand over her mouth and threw a tantrum about it, front row, live on camera. Even Reuters used the word "tantrum." So did CNN.
Louis really did his utmost to get summarily carried out of the venue, but to no avail. pic.twitter.com/uXzlKKDikB
This is a good illustration for why Prince Louis has been missing from so many kid friendly events in recent months. Again, it wouldn't have been half as bad if Kate, you know, knew how to handle her child. The way she kept fussing with him and getting in his face was annoying the crap about me, imagine what it's like for a four-year-old. I also feel like Kate just wants to stage the photos of her "leaning down and talking" to her kids. And all three of her kids are completely over it. And yes, if this had been Meghan and her children, every single British paper would have done wall-to-wall coverage about how Meghan is a bad mother and her children are demon seeds.
After the parade, the Cambridges joined Charles and Camilla on the Buckingham Palace balcony, and the Queen made a "surprise" appearance. The optics made more sense for this appearance – at least the Queen's heirs were closest to her, which was not the case at Trooping. Once again, Louis was bored out of his mind. He was too little for all of these Jubbly appearances and his parents are too incapable of dealing with him. Someone fetch Nanny Maria.
Photos courtesy of Avalon Red, Backgrid and Instar.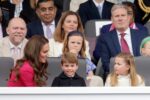 North America Rights Only – London, UK -20220605- Platinum Jubilee Pageant in front of Buckingham Palace, London, on day four of the Platinum Jubilee celebrations. -PICTURED: Catherine Duchess of Cambridge, Prince Louis, Princess Charlotte -PHOTO by: Chris Jackson/PA Images/INSTARimages.com Disclaimer: This is an editorial, rights-managed image. Please contact INSTAR Images for licensing fee and rights information at sales@instarimages.com or call +1 212 414 0207. This image may not be published in any way that is, or might be deemed to be, defamatory, libelous, pornographic, or obscene. Please consult our sales department for any clarification needed prior to publication and use. INSTAR Images reserves the right to pursue unauthorized users of this material. If you are in violation of our intellectual property rights or copyright you may be liable for damages, loss of income, any profits you derive from the unauthorized use of this material and, where appropriate, the cost of collection and/or any statutory damages awarded For images containing underage children: Be advised that some Countries may have restricted privacy laws against publishing images of underage children. Inform yourself! Underage children may need to be removed or have their face pixelated before publishing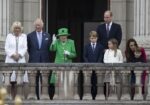 Queen Elizabeth II on the balcony of Buckingham Palace with Prince Charles, Camilla, Duchess of Cornwall, Prince William , Catherine, Duchess of Cambridge,, Prince George, Princess Charlotte and Prince Louis at the end of the Pageant on the final day of the Platinum Jubilee celebrations in London.,Image: 697182635, License: Rights-managed, Restrictions: -, Model Release: no, Credit line: Stephen Lock / Avalon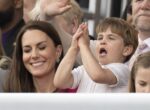 Catherine, Duchess of Cambridge, and Prince Louis at the Platinum Pageant from the Royal Box on the final day of the Platinum Jubilee celebrations in London.,Image: 697183086, License: Rights-managed, Restrictions: -, Model Release: no, Credit line: Stephen Lock / Avalon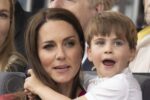 Catherine, Duchess of Cambridge, and Prince Louis watch the Platinum Pageant from the Royal Box on the final day of the Platinum Jubilee celebrations in London.,Image: 697183096, License: Rights-managed, Restrictions: -, Model Release: no, Credit line: Stephen Lock / Avalon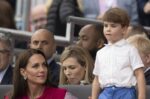 Catherine, Duchess of Cambridge, and Prince Louis watch the Platinum Pageant from the Royal Box on the final day of the Platinum Jubilee celebrations in London.,Image: 697183122, License: Rights-managed, Restrictions: -, Model Release: no, Credit line: Stephen Lock / Avalon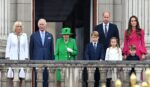 Queen Elizabeth II on the balcony at Buckingham Palace with Catherine, Duchess of Cambridge, Prince Louis, Princess Charlotte, Prince George, Prince William, Duke of Cambridge, Camilla, Duchess of Cornwall, Prince Charles, Prince of Wales, after the Platinum Pageant on June 05, 2022 in London, England.,Image: 697224208, License: Rights-managed, Restrictions: -, Model Release: no, Credit line: Anthony Harvey / Avalon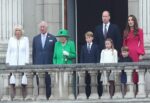 London, UK – Camilla, Duchess of Cambridge, Prince Charles, Prince of Wales, Queen Elizabeth II, Prince George of Cambridge, Prince William, Duke of Cambridge, Princess Charlotte of Cambridge, Prince Louis of Cambridge and Catherine, Duchess of Cambridge stand on the balcony of Buckingham Palace during the Platinum Pageant. Pictured: Camilla, Duchess of Cambridge, Prince Charles, Queen Elizabeth II, Prince George, Prince William, Pr BACKGRID USA 5 JUNE 2022 BYLINE MUST READ: Karl Larsen / BACKGRID USA: +1 310 798 9111 / usasales@backgrid.com UK: +44 208 344 2007 / uksales@backgrid.com *UK Clients – Pictures Containing Children Please Pixelate Face Prior To Publication*