Here is another piece from the Daily Mail's Rebecca English, all about Prince William's 40th birthday. This new piece is about the changes William will make when he's king, or whenever he has any kind of power. William is going all-in on Charles's slimmed-down monarchy plans, mostly because William is a narcissist and bully and he doesn't want anyone else to have power or money. This mostly reads like the rantings of a despot-in-training. Enjoy:
When William was younger, I used to wonder if he was kind of an undercover republican, ripping the monarchy to shreds from the inside. Nowadays, I don't believe that, but I do believe he is damaging the monarchy from within. I just don't think that the destruction of the monarchy is his goal. He's just tone-deaf, lazy and short-sighted – he'll end up destroying everything out of spite, ignorance and apathy. And I say we should let him! It will be fun to watch. It will be interesting to see the William-at-50, "it's all King Charles's fault, Charles makes all of the decisions" pieces.
It's so funny that William thinks the Flop Tour was all Buckingham Palace's fault too. Kensington Palace organizes William and Kate's lightweight tours and no one made Kate and William cosplay colonialists-on-holiday. Kate even got certain dresses specifically to cosplay the Queen.
Photos courtesy of Backgrid and Instar.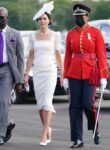 North America Rights Only – Kingston, Jamaica -20220324-Royal Visit to the Caribbean – Day 6 Prince William and Catherine Duchess of Cambridge attend the inaugural Commissioning Parade for service personnel from across the Caribbean who have recently completed the Caribbean Military Academy's Officer Training Program, in Kingston, Jamaica, on day six of their tour of the Caribbean on behalf of the Queen to mark her Platinum Jubilee. -PICTURED: Catherine Duchess of Cambridge -PHOTO by: Jane Barlow/PA Images/INSTARimages.com Disclaimer: This is an editorial, rights-managed image. Please contact INSTAR Images for licensing fee and rights information at sales@instarimages.com or call +1 212 414 0207. This image may not be published in any way that is, or might be deemed to be, defamatory, libelous, pornographic, or obscene. Please consult our sales department for any clarification needed prior to publication and use. INSTAR Images reserves the right to pursue unauthorized users of this material. If you are in violation of our intellectual property rights or copyright you may be liable for damages, loss of income, any profits you derive from the unauthorized use of this material and, where appropriate, the cost of collection and/or any statutory damages awarded For images containing underage children: Be advised that some Countries may have restricted privacy laws against publishing images of underage children. Inform yourself! Underage children may need to be removed or have their face pixelated before publishing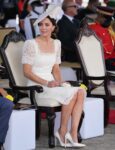 North America Rights Only – Kingston, Jamaica -20220324-Royal Visit to the Caribbean – Day 6Prince William and Catherine Duchess of Cambridge attend the inaugural Commissioning Parade for service personnel from across the Caribbean who have recently completed the Caribbean Military Academy's Officer Training Program, in Kingston, Jamaica, on day six of their tour of the Caribbean on behalf of the Queen to mark her Platinum Jubilee. -PICTURED: Catherine Duchess of Cambridge-PHOTO by: Jane Barlow/PA Images/INSTARimages.comDisclaimer:This is an editorial, rights-managed image. Please contact INSTAR Images for licensing fee and rights information at sales@instarimages.com or call +1 212 414 0207. This image may not be published in any way that is, or might be deemed to be, defamatory, libelous, pornographic, or obscene. Please consult our sales department for any clarification needed prior to publication and use. INSTAR Images reserves the right to pursue unauthorized users of this material. If you are in violation of our intellectual property rights or copyright you may be liable for damages, loss of income, any profits you derive from the unauthorized use of this material and, where appropriate, the cost of collection and/or any statutory damages awardedFor images containing underage children: Be advised that some Countries may have restricted privacy laws against publishing images of underage children. Inform yourself! Underage children may need to be removed or have their face pixelated before publishing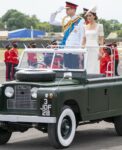 North America Rights Only – Kingston, Jamaica -20220324-Royal Visit to the Caribbean – Day 6Prince William and Catherine Duchess of Cambridge attend the inaugural Commissioning Parade for service personnel from across the Caribbean who have recently completed the Caribbean Military Academy's Officer Training Program, in Kingston, Jamaica, on day six of their tour of the Caribbean on behalf of the Queen to mark her Platinum Jubilee. -PICTURED: Prince William and Catherine Duchess of Cambridge-PHOTO by: Jane Barlow/PA Images/INSTARimages.comDisclaimer:This is an editorial, rights-managed image. Please contact INSTAR Images for licensing fee and rights information at sales@instarimages.com or call +1 212 414 0207. This image may not be published in any way that is, or might be deemed to be, defamatory, libelous, pornographic, or obscene. Please consult our sales department for any clarification needed prior to publication and use. INSTAR Images reserves the right to pursue unauthorized users of this material. If you are in violation of our intellectual property rights or copyright you may be liable for damages, loss of income, any profits you derive from the unauthorized use of this material and, where appropriate, the cost of collection and/or any statutory damages awardedFor images containing underage children: Be advised that some Countries may have restricted privacy laws against publishing images of underage children. Inform yourself! Underage children may need to be removed or have their face pixelated before publishing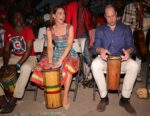 North America Rights Only – Kingston, Jamaica -20220322-Prince William and Catherine Duchess of Cambridge meet locals during a visit Trench Town, the birthplace of reggae in Kingston, Jamaica, on day four of their tour of the Caribbean on behalf of the Queen to mark her Platinum Jubilee.-PICTURED: Prince William and Catherine Duchess of Cambridge-PHOTO by: Chris Jackson/PA Images/INSTARimages.comDisclaimer:This is an editorial, rights-managed image. Please contact INSTAR Images for licensing fee and rights information at sales@instarimages.com or call +1 212 414 0207. This image may not be published in any way that is, or might be deemed to be, defamatory, libelous, pornographic, or obscene. Please consult our sales department for any clarification needed prior to publication and use. INSTAR Images reserves the right to pursue unauthorized users of this material. If you are in violation of our intellectual property rights or copyright you may be liable for damages, loss of income, any profits you derive from the unauthorized use of this material and, where appropriate, the cost of collection and/or any statutory damages awardedFor images containing underage children: Be advised that some Countries may have restricted privacy laws against publishing images of underage children. Inform yourself! Underage children may need to be removed or have their face pixelated before publishing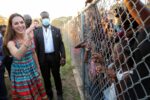 North America Rights Only – Kingston, Jamaica -20220322- Prince William and Catherine Duchess of Cambridge meet locals during a visit Trench Town, the birthplace of reggae in Kingston, Jamaica, on day four of their tour of the Caribbean on behalf of the Queen to mark her Platinum Jubilee. -PICTURED: Catherine Duchess of Cambridge -PHOTO by: Chris Jackson/PA Images/INSTARimages.com Disclaimer: This is an editorial, rights-managed image. Please contact INSTAR Images for licensing fee and rights information at sales@instarimages.com or call +1 212 414 0207. This image may not be published in any way that is, or might be deemed to be, defamatory, libelous, pornographic, or obscene. Please consult our sales department for any clarification needed prior to publication and use. INSTAR Images reserves the right to pursue unauthorized users of this material. If you are in violation of our intellectual property rights or copyright you may be liable for damages, loss of income, any profits you derive from the unauthorized use of this material and, where appropriate, the cost of collection and/or any statutory damages awarded For images containing underage children: Be advised that some Countries may have restricted privacy laws against publishing images of underage children. Inform yourself! Underage children may need to be removed or have their face pixelated before publishing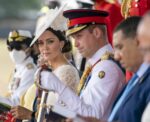 North America Rights Only – Kingston, Jamaica -20220324-Royal Visit to the Caribbean – Day 6 Prince William and Catherine Duchess of Cambridge attend the inaugural Commissioning Parade for service personnel from across the Caribbean who have recently completed the Caribbean Military Academy's Officer Training Program, in Kingston, Jamaica, on day six of their tour of the Caribbean on behalf of the Queen to mark her Platinum Jubilee. -PICTURED: Prince William and Catherine Duchess of Cambridge -PHOTO by: Jane Barlow/PA Images/INSTARimages.com Disclaimer: This is an editorial, rights-managed image. Please contact INSTAR Images for licensing fee and rights information at sales@instarimages.com or call +1 212 414 0207. This image may not be published in any way that is, or might be deemed to be, defamatory, libelous, pornographic, or obscene. Please consult our sales department for any clarification needed prior to publication and use. INSTAR Images reserves the right to pursue unauthorized users of this material. If you are in violation of our intellectual property rights or copyright you may be liable for damages, loss of income, any profits you derive from the unauthorized use of this material and, where appropriate, the cost of collection and/or any statutory damages awarded For images containing underage children: Be advised that some Countries may have restricted privacy laws against publishing images of underage children. Inform yourself! Underage children may need to be removed or have their face pixelated before publishing
North America Rights Only – Kingston, Jamaica -20220324-Royal Visit to the Caribbean – Day 6 Prince William and Catherine Duchess of Cambridge attend the inaugural Commissioning Parade for service personnel from across the Caribbean who have recently completed the Caribbean Military Academy's Officer Training Program, in Kingston, Jamaica, on day six of their tour of the Caribbean on behalf of the Queen to mark her Platinum Jubilee. -PICTURED: Prince William and Catherine Duchess of Cambridge -PHOTO by: Jane Barlow/PA Images/INSTARimages.com Disclaimer: This is an editorial, rights-managed image. Please contact INSTAR Images for licensing fee and rights information at sales@instarimages.com or call +1 212 414 0207. This image may not be published in any way that is, or might be deemed to be, defamatory, libelous, pornographic, or obscene. Please consult our sales department for any clarification needed prior to publication and use. INSTAR Images reserves the right to pursue unauthorized users of this material. If you are in violation of our intellectual property rights or copyright you may be liable for damages, loss of income, any profits you derive from the unauthorized use of this material and, where appropriate, the cost of collection and/or any statutory damages awarded For images containing underage children: Be advised that some Countries may have restricted privacy laws against publishing images of underage children. Inform yourself! Underage children may need to be removed or have their face pixelated before publishing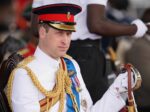 North America Rights Only – Kingston, Jamaica -20220324-Royal Visit to the Caribbean – Day 6Prince William and Catherine Duchess of Cambridge attend the inaugural Commissioning Parade for service personnel from across the Caribbean who have recently completed the Caribbean Military Academy's Officer Training Program, in Kingston, Jamaica, on day six of their tour of the Caribbean on behalf of the Queen to mark her Platinum Jubilee. -PICTURED: Prince William-PHOTO by: Jane Barlow/PA Images/INSTARimages.comDisclaimer:This is an editorial, rights-managed image. Please contact INSTAR Images for licensing fee and rights information at sales@instarimages.com or call +1 212 414 0207. This image may not be published in any way that is, or might be deemed to be, defamatory, libelous, pornographic, or obscene. Please consult our sales department for any clarification needed prior to publication and use. INSTAR Images reserves the right to pursue unauthorized users of this material. If you are in violation of our intellectual property rights or copyright you may be liable for damages, loss of income, any profits you derive from the unauthorized use of this material and, where appropriate, the cost of collection and/or any statutory damages awardedFor images containing underage children: Be advised that some Countries may have restricted privacy laws against publishing images of underage children. Inform yourself! Underage children may need to be removed or have their face pixelated before publishing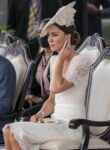 North America Rights Only – Kingston, Jamaica -20220324-Royal Visit to the Caribbean – Day 6 Prince William and Catherine Duchess of Cambridge attend the inaugural Commissioning Parade for service personnel from across the Caribbean who have recently completed the Caribbean Military Academy's Officer Training Program, in Kingston, Jamaica, on day six of their tour of the Caribbean on behalf of the Queen to mark her Platinum Jubilee. -PICTURED: Catherine Duchess of Cambridge -PHOTO by: Jane Barlow/PA Images/INSTARimages.com Disclaimer: This is an editorial, rights-managed image. Please contact INSTAR Images for licensing fee and rights information at sales@instarimages.com or call +1 212 414 0207. This image may not be published in any way that is, or might be deemed to be, defamatory, libelous, pornographic, or obscene. Please consult our sales department for any clarification needed prior to publication and use. INSTAR Images reserves the right to pursue unauthorized users of this material. If you are in violation of our intellectual property rights or copyright you may be liable for damages, loss of income, any profits you derive from the unauthorized use of this material and, where appropriate, the cost of collection and/or any statutory damages awarded For images containing underage children: Be advised that some Countries may have restricted privacy laws against publishing images of underage children. Inform yourself! Underage children may need to be removed or have their face pixelated before publishing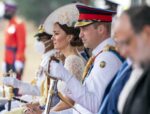 North America Rights Only – Kingston, Jamaica -20220324-Royal Visit to the Caribbean – Day 6Prince William and Catherine Duchess of Cambridge attend the inaugural Commissioning Parade for service personnel from across the Caribbean who have recently completed the Caribbean Military Academy's Officer Training Program, in Kingston, Jamaica, on day six of their tour of the Caribbean on behalf of the Queen to mark her Platinum Jubilee. -PICTURED: Prince William and Catherine Duchess of Cambridge-PHOTO by: Jane Barlow/PA Images/INSTARimages.comDisclaimer:This is an editorial, rights-managed image. Please contact INSTAR Images for licensing fee and rights information at sales@instarimages.com or call +1 212 414 0207. This image may not be published in any way that is, or might be deemed to be, defamatory, libelous, pornographic, or obscene. Please consult our sales department for any clarification needed prior to publication and use. INSTAR Images reserves the right to pursue unauthorized users of this material. If you are in violation of our intellectual property rights or copyright you may be liable for damages, loss of income, any profits you derive from the unauthorized use of this material and, where appropriate, the cost of collection and/or any statutory damages awardedFor images containing underage children: Be advised that some Countries may have restricted privacy laws against publishing images of underage children. Inform yourself! Underage children may need to be removed or have their face pixelated before publishing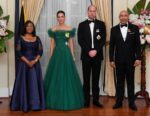 North America Rights Only – London, UK -20220323-Prince William and Catherine Duchess of Cambridge arrive for a dinner hosted by Patrick Allen, Governor General of Jamaica, at King's House, in Kingston, Jamaica, on day five of the royal tour of the Caribbean on behalf of the Queen to mark her Platinum Jubilee.-PICTURED: Prince William, Catherine Duchess of Cambridge, Patrick Allen, Lady Patricia Allen-PHOTO by: PA Images/INSTARimages.comDisclaimer:This is an editorial, rights-managed image. Please contact INSTAR Images for licensing fee and rights information at sales@instarimages.com or call +1 212 414 0207. This image may not be published in any way that is, or might be deemed to be, defamatory, libelous, pornographic, or obscene. Please consult our sales department for any clarification needed prior to publication and use. INSTAR Images reserves the right to pursue unauthorized users of this material. If you are in violation of our intellectual property rights or copyright you may be liable for damages, loss of income, any profits you derive from the unauthorized use of this material and, where appropriate, the cost of collection and/or any statutory damages awardedFor images containing underage children: Be advised that some Countries may have restricted privacy laws against publishing images of underage children. Inform yourself! Underage children may need to be removed or have their face pixelated before publishing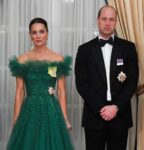 North America Rights Only – London, UK -20220323-Prince William and Catherine Duchess of Cambridge arrive for a dinner hosted by Patrick Allen, Governor General of Jamaica, at King's House, in Kingston, Jamaica, on day five of the royal tour of the Caribbean on behalf of the Queen to mark her Platinum Jubilee.-PICTURED: Prince William, Catherine Duchess of Cambridge, Patrick Allen, Lady Patricia Allen-PHOTO by: PA Images/INSTARimages.comDisclaimer:This is an editorial, rights-managed image. Please contact INSTAR Images for licensing fee and rights information at sales@instarimages.com or call +1 212 414 0207. This image may not be published in any way that is, or might be deemed to be, defamatory, libelous, pornographic, or obscene. Please consult our sales department for any clarification needed prior to publication and use. INSTAR Images reserves the right to pursue unauthorized users of this material. If you are in violation of our intellectual property rights or copyright you may be liable for damages, loss of income, any profits you derive from the unauthorized use of this material and, where appropriate, the cost of collection and/or any statutory damages awardedFor images containing underage children: Be advised that some Countries may have restricted privacy laws against publishing images of underage children. Inform yourself! Underage children may need to be removed or have their face pixelated before publishing