Just so we're clear, the British media spent a full months crying salty tears about how the Duke and Duchess of Sussex were going to steal the Queen's Jubbly thunder, that they would be seen constantly during their visit and it would be awful, that no one in Britain even wanted them there, that the Sussexes would be booed everywhere, that everyone hates hates hates them. Harry and Meghan then turn up, stay lowkey save for one gorgeous appearance at church, and now the new storyline is "why didn't Harry and Meghan do MORE?" Why weren't they seen more, why weren't they humiliated, why didn't they beg the British public for crumbs, why didn't Harry throw himself upon Baldemort's mercy? It's insane.
Following the Jubbly church service, Richard Kay shat out a long column about how Harry and Meghan were now royal B-listers, relegated to sitting with "the also-rans of the Royal Family" (aka Harry's cousins and the Wessexes). Then, Kay writes this sh-t with a straight face: "There they waited, exchanging small talk with Harry's cousins as the real stars of the show arrived, William and Kate accompanying Prince Charles and the Duchess of Cornwall." This is the fundamental issue with the Windsors and their sycophantic media machine: they think they can solely dictate someone's popularity. They think that what they did to Harry and Meghan would leave them humiliated, and that people would obviously want to see William and Kate more because the Windsors are telling people: you should want to see William and Kate, they are the stars. Meanwhile, people were literally craning their necks to check out HM, their names were trending on social media for days, and Meghan's Dior look is the one people will talk about for weeks.
Anyway, Kay had another point, which is that the people are apparently desperate to see William and Harry reunite or make some kind of peace. That was also the point of a very special "Daily Mail Comment" (basically a staff editorial), which was headlined: "William and Harry's brotherly rift must pain the Queen so much." The Queen went out of her way to keep the brothers apart, likely at Harry and William's separate requests. The staff editorial had this hilarious conclusion:
There is of course a deeper poignancy to Harry's estrangement from William. The nation grieved with the boys on that day in 1997 when they walked together, inconsolable and uncomprehending, behind their mother's coffin. They had lost so much, but at least, we thought, they had each other. Brothers in arms.
If we feel sorrow now at their alienation, imagine how their grandmother must feel. How she must long for them to find a way of repairing the old bonds.
That would probably necessitate Harry making the first move, an apology perhaps for all the heartache and offence he and Meghan have caused – especially to Kate.
There was little evidence of rapprochement yesterday, however. For now, at least, the brothers remain worlds apart.
There we go: "That would probably necessitate Harry making the first move, an apology perhaps for all the heartache and offence he and Meghan have caused – especially to Kate." Ah yes. That was the point of all of it. "We're shunning you, you and your Black American wife are so unimportant, we don't care about you at all, you're a B-lister, you should be groveling at my feet, apologizing to ME!" Absolutely psychotic. William, Kate and the British media are all running DARVO on the Sussexes.
Photos courtesy of Avalon Red, Instar.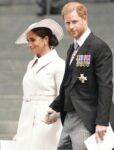 North America Rights Only, London, England – 20220603- National Service of Thanksgiving On Day Two Of The Platinum Jubilee Celebrations -PICTURED: Meghan Duchess of Sussex and Prince Harry -PHOTO by: PA Images/INSTARimages.com -67259391 Disclaimer: This is an editorial, rights-managed image. Please contact INSTAR Images for licensing fee and rights information at sales@instarimages.com or call +1 212 414 0207. This image may not be published in any way that is, or might be deemed to be, defamatory, libelous, pornographic, or obscene. Please consult our sales department for any clarification needed prior to publication and use. INSTAR Images reserves the right to pursue unauthorized users of this material. If you are in violation of our intellectual property rights or copyright you may be liable for damages, loss of income, any profits you derive from the unauthorized use of this material and, where appropriate, the cost of collection and/or any statutory damages awarded For images containing underage children: Be advised that some Countries may have restricted privacy laws against publishing images of underage children. Inform yourself! Underage children may need to be removed or have their face pixelated before publishing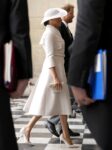 Prince Harry and Meghan Markle, Duke and Duchess of Sussex arrive for a service of thanksgiving for the reign of Queen Elizabeth II at St Paul's Cathedral in London, Friday, June 3, 2022 on the second of four days of celebrations to mark the Platinum Jubilee. The events over a long holiday weekend in the U.K. are meant to celebrate the monarch's 70 years of service.,Image: 696613912, License: Rights-managed, Restrictions: -, Model Release: no, Credit line: Matt Dunham / Avalon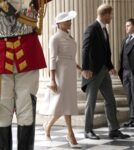 Prince Harry and Meghan Markle, Duke and Duchess of Sussex arrive for a service of thanksgiving for the reign of Queen Elizabeth II at St Paul's Cathedral in London, Friday, June 3, 2022 on the second of four days of celebrations to mark the Platinum Jubilee. The events over a long holiday weekend in the U.K. are meant to celebrate the monarch's 70 years of service.,Image: 696614407, License: Rights-managed, Restrictions: -, Model Release: no, Credit line: Matt Dunham / Avalon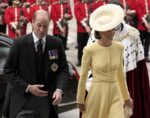 Britain's Prince William and his wife Kate the Duchess of Cambridge arrive for a service of thanksgiving for the reign of Queen Elizabeth II at St Paul's Cathedral in London, Friday, June 3, 2022 on the second of four days of celebrations to mark the Platinum Jubilee. The events over a long holiday weekend in the U.K. are meant to celebrate the monarch's 70 years of service.,Image: 696618200, License: Rights-managed, Restrictions: -, Model Release: no, Credit line: Matt Dunham / Avalon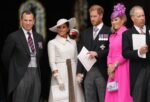 (Left to right) Peter Phillips, the Duchess of Sussex, the Duke of Sussex, Zara Tindall and Viscount Linley leave the National Service of Thanksgiving at St Paul's Cathedral, London, on day two of the Platinum Jubilee celebrations for Queen Elizabeth II. The National Service marks The Queen's 70 years of service to the people of the United Kingdom, the Realms and the Commonwealth. Public service is at the heart of the event and over 400 recipients of Honours in the New Year or Birthday Honours lists have been invited in recognition of their contribution to public life. Drawn from all four nations of the United Kingdom, they include NHS and key workers, teaching staff, public servants, and representatives from the Armed Forces, charities, social enterprises and voluntary groups.,Image: 696640878, License: Rights-managed, Restrictions: -, Model Release: no, Credit line: Kirsty O'Connor / Avalon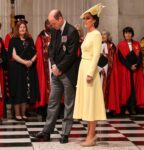 The Duke and Duchess of Cambridge arrive at St Paul's cathedral for the service of thanksgiving for the Queen.,Image: 696641136, License: Rights-managed, Restrictions: -, Model Release: no, Credit line: Richard Pohle / Avalon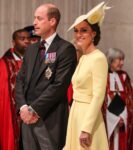 The Duke and Duchess of Cambridge arrive at St Paul's cathedral for the service of thanksgiving for the Queen.,Image: 696641226, License: Rights-managed, Restrictions: -, Model Release: no, Credit line: Richard Pohle / Avalon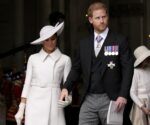 Prince Harry and Meghan Markle, Duke and Duchess of Sussex leave after a service of thanksgiving for the reign of Queen Elizabeth II at St Paul's Cathedral in London, Friday, June 3, 2022 on the second of four days of celebrations to mark the Platinum Jubilee. The events over a long holiday weekend in the U.K. are meant to celebrate the monarch's 70 years of service.,Image: 696653379, License: Rights-managed, Restrictions: -, Model Release: no, Credit line: Matt Dunham / Avalon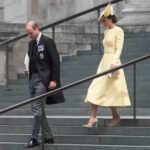 His Royal Highness Prince William – the Duke Of Cambridge and Her Royal Highness Catherine the Duchess of Cambridge depart a service of thanksgiving at St. Paul's Cathedral, London, England, UK on Friday 3 June, 2022 as part of the Queen's Platinum Jubilee Celebration.,Image: 696655676, License: Rights-managed, Restrictions: Please credit photographer and agency when publishing as Justin Ng/UPPA/Avalon., Model Release: no, Credit line: Justin Ng / Avalon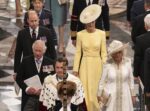 LONDON, ENGLAND – JUNE 03: Prince William, Duke of Cambridge, Catherine, Duchess of Cambridge, Prince Charles, Prince of Wales and Camilla, Duchess of Cornwall depart the National Service of Thanksgiving at St Paul's Cathedral on June 03, 2022 in London, England. The Platinum Jubilee of Elizabeth II is being celebrated from June 2 to June 5, 2022, in the UK and Commonwealth to mark the 70th anniversary of the accession of Queen Elizabeth II on 6 February 1952.,Image: 696661979, License: Rights-managed, Restrictions: -, Model Release: no, Credit line: Dan Kitwood / Avalon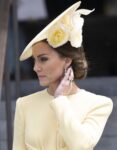 03/06/2022. London, United Kingdom. Prince William and Kate Middleton, the Duke and Duchess of Cambridge, leaving a Service of Thanksgiving for the reign of Queen Elizabeth II at St.Paul's Cathedral in London, on day two of the Platinum Jubilee celebrations.,Image: 696677297, License: Rights-managed, Restrictions: -, Model Release: no, Credit line: Stephen Lock / Avalon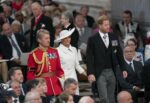 Meghan, Duchess of Sussex, and Prince Harry, Duke of Sussex arrive for the National Service of Thanksgiving at St Paul's Cathedral on June 03, 2022 in London, England. The Platinum Jubilee of Elizabeth II is being celebrated from June 2 to June 5, 2022, in the UK and Commonwealth to mark the 70th anniversary of the accession of Queen Elizabeth II on 6 February 1952.,Image: 696678053, License: Rights-managed, Restrictions: -, Model Release: no, Credit line: ARTHUR EDWARDS / Avalon