Yesterday, there was a royal kerfuffle when MSN published an article claiming that the Duke and Duchess of Cambridge have separated. MSN's source material seemed to be a poorly translated French tabloid-site story, in which "palace sources" claimed William and Kate fought and Kate packed her bags and took the kids to Bucklebury. As I said, the actual story was believable enough and it's not crazy to think that Kate regularly "packs her bags" and takes the kids to Carole's house. We've also seen a covert separation happening between William and Kate for a few years. The shadiness of the Queen "lending" the Sandringham main house to William, the whole "move to Windsor" weirdness. In any case, MSN deleted their story and, eventually, their much-shared tweet. Newsweek contacted MSN and the French site about what happened:
Prince William and Kate Middleton have been hit by a fake break-up rumor picked up and spread by MSN.com. There is nothing to suggest the Duke and Duchess of Cambridge are experiencing marital problems and they appeared happy together during a visit to Scotland on May 11. However, an article on French-language website Oh My Mag wrongly suggested Kate had walked out with the couple's three children, the website's publisher told Newsweek.
MSN.com then ran a translation hosted on its own website, while a link to the story was posted to its 227,600 Twitter followers on May 17. Outlandish conspiracies about the British royal family appear in the world's media from time to time but what is notable about this example is the role MSN.com played in giving the story the potential to reach a mass audience in Britain and America.
A spokesperson for Groupe Cerise, which owns Oh My Mag, told Newsweek: "This story is indeed false and has been published by accident. We are taking it down momentarily."
MSN.com eventually deleted its story after being approached for comment by Newsweek. Newsweek also reached out to Kensington Palace for comment.
It is unclear whether the Duke and Duchess of Cambridge will call in their lawyers over the bizarre rumor.
I know there are tons of conspiracies about lawyers being called and strings being pulled, and that kind of thing absolutely happens. We know it happens, journalists speak openly about it. But this one just seems too minor to really be part of some big conspiracy. Why would William waste what little capital he has on going full-blast on MSN and Oh My Mag? He will need that capital in the future. It's far more likely that some lowly Communications person at Kensington Palace was merely tasked with calling up someone who then called up someone else and MSN removed the story with no questions asked.
Photos courtesy of Avalon Red, Instar.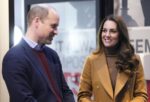 North America Rights Only – London, UK -20220120- Prince William, Duke of Cambridge and Catherine, Duchess of Cambridge visit the Church on the Street in Burnley, Lancashire, where they are meeting with volunteers and staff to hear about their motivations for working with Church on the Street as well as a number of service users to hear about their experiences first-hand. -PICTURED: Prince William, Catherine Duchess of Cambridge -PHOTO by: Danny Lawson/PA Images/INSTARimages.com Disclaimer: This is an editorial, rights-managed image. Please contact INSTAR Images for licensing fee and rights information at sales@instarimages.com or call +1 212 414 0207. This image may not be published in any way that is, or might be deemed to be, defamatory, libelous, pornographic, or obscene. Please consult our sales department for any clarification needed prior to publication and use. INSTAR Images reserves the right to pursue unauthorized users of this material. If you are in violation of our intellectual property rights or copyright you may be liable for damages, loss of income, any profits you derive from the unauthorized use of this material and, where appropriate, the cost of collection and/or any statutory damages awarded For images containing underage children: Be advised that some Countries may have restricted privacy laws against publishing images of underage children. Inform yourself! Underage children may need to be removed or have their face pixelated before publishing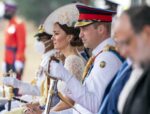 North America Rights Only – Kingston, Jamaica -20220324-Royal Visit to the Caribbean – Day 6 Prince William and Catherine Duchess of Cambridge attend the inaugural Commissioning Parade for service personnel from across the Caribbean who have recently completed the Caribbean Military Academy's Officer Training Program, in Kingston, Jamaica, on day six of their tour of the Caribbean on behalf of the Queen to mark her Platinum Jubilee. -PICTURED: Prince William and Catherine Duchess of Cambridge -PHOTO by: Jane Barlow/PA Images/INSTARimages.com Disclaimer: This is an editorial, rights-managed image. Please contact INSTAR Images for licensing fee and rights information at sales@instarimages.com or call +1 212 414 0207. This image may not be published in any way that is, or might be deemed to be, defamatory, libelous, pornographic, or obscene. Please consult our sales department for any clarification needed prior to publication and use. INSTAR Images reserves the right to pursue unauthorized users of this material. If you are in violation of our intellectual property rights or copyright you may be liable for damages, loss of income, any profits you derive from the unauthorized use of this material and, where appropriate, the cost of collection and/or any statutory damages awarded For images containing underage children: Be advised that some Countries may have restricted privacy laws against publishing images of underage children. Inform yourself! Underage children may need to be removed or have their face pixelated before publishing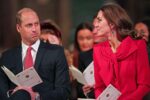 Previously unissued photo dated 08/12/21 of the Duke and Duchess of Cambridge taking part in 'Royal Carols – Together At Christmas', a Christmas carol concert hosted by the duchess at Westminster Abbey in London, which will be broadcast on Christmas Eve on ITV. Issue date: Wednesday December 22, 2021. Led by the duchess, and supported by The Royal Foundation, the service was attended by those Kate and William had spent time with during recent engagements, as well as members of the armed forces involved in Operation Pitting, young carers, faith leaders and those who may have been more vulnerable or isolated during the pandemic.,Image: 649207573, License: Rights-managed, Restrictions: NO UK USE FOR 48 HOURS- Fee Payable Upon reproduction – For queries contact Avalon sales@Avalon.red London +44 20 7421 6000 Los Angeles +1 310 822 0419 Berlin +49 30 76 212 251 Madrid +34 91 533 42 89, Model Release: no, Credit line: Avalon.red / Avalon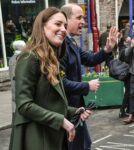 The Duke and Duchess of Cambridge meet members of the public after visiting Abergavenny Market to see first-hand how important local suppliers are to rural communities and to mark St David's Day.,Image: 665698844, License: Rights-managed, Restrictions: , Model Release: no, Credit line: JULES ANNAN / Avalon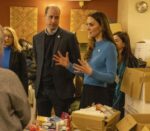 The Duke and Duchess of Cambridge visit the Ukrainian Cultural Centre in London to learn about the extraordinary efforts being made to support Ukrainians in the UK and across Europe.Meeting with members of the Ukrainian community and volunteers, Their Royal Highnesses will hear about the services offered at the centre, the incredible amount of donations they have received and the challenges they continue to face to get material aid where it's most needed. As part of this The Duke and Duchess will be invited to help with some of the sorting and packaging of items donated.The Duchess gave homemade cakes to the workers ,The couple where shown around by Ukraine's ambassador to the UK, Vadym Prystaiko and his wife Inna Prystaiko.,Image: 668477814, License: Rights-managed, Restrictions: , Model Release: no, Credit line: Ian Vogler / Avalon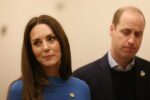 The Duke and Duchess of Cambridge visit the Ukrainian Cultural Centre in London to learn about the extraordinary efforts being made to support Ukrainians in the UK and across Europe. Meeting with members of the Ukrainian community and volunteers, Their Royal Highnesses will hear about the services offered at the centre, the incredible amount of donations they have received and the challenges they continue to face to get material aid where it's most needed. As part of this The Duke and Duchess will be invited to help with some of the sorting and packaging of items donated.The Duchess gave homemade cakes to the workers ,The couple where shown around by Ukraine's ambassador to the UK, Vadym Prystaiko and his wife Inna Prystaiko.,Image: 668482593, License: Rights-managed, Restrictions: , Model Release: no, Credit line: Ian Vogler / Avalon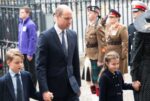 (L_R) Prince George, HRH Prince William – The Duke Of Cambridge, HRH Katherine, The Duchess of Cambridge and daughter Princess Charlotte attends a Service of Thanksgiving for HRH The Prince Philip, Duke of Edinburgh at Westminster Abbey, London, England, UK on Tuesday 29 March, 2022.,Image: 673787498, License: Rights-managed, Restrictions: Please credit photographer and agency when publishing as Justin Ng/UPPA/Avalon., Model Release: no, Credit line: Justin Ng / Avalon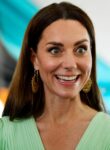 North America Rights Only – Nassau, Bahamas -20220325-Royal Visit to the Caribbean – Day 7The Duke Duchess of Cambridge in Nassau, Bahamas, on day seven of their tour of the Caribbean on behalf of the Queen to mark her Platinum Jubilee. -PICTURED: Catherine Duchess of Cambridge-PHOTO by: PA IMAGES/INSTARimages.comDisclaimer:This is an editorial, rights-managed image. Please contact INSTAR Images for licensing fee and rights information at sales@instarimages.com or call +1 212 414 0207. This image may not be published in any way that is, or might be deemed to be, defamatory, libelous, pornographic, or obscene. Please consult our sales department for any clarification needed prior to publication and use. INSTAR Images reserves the right to pursue unauthorized users of this material. If you are in violation of our intellectual property rights or copyright you may be liable for damages, loss of income, any profits you derive from the unauthorized use of this material and, where appropriate, the cost of collection and/or any statutory damages awardedFor images containing underage children: Be advised that some Countries may have restricted privacy laws against publishing images of underage children. Inform yourself! Underage children may need to be removed or have their face pixelated before publishing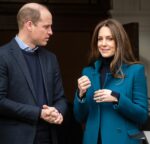 NOT AVAILABLE FOR PUBLICATION IN THE UK – London, UK -20220119-Prince William, Duke of Cambridge and Catherine, Duchess of Cambridge join in a roundtable discussion while visiting the Foundling Museum to learn more about the care sector and meet representatives from across the system, including those with direct experience of living in care-PICTURED: Prince William and Catherine Duchess of Cambridge-PHOTO by: John Rainford/Cover Images/INSTARimages.com-51082320.jpgThis is an editorial, rights-managed image. Please contact Instar Images LLC for licensing fee and rights information at sales@instarimages.com or call +1 212 414 0207 This image may not be published in any way that is, or might be deemed to be, defamatory, libelous, pornographic, or obscene. Please consult our sales department for any clarification needed prior to publication and use. Instar Images LLC reserves the right to pursue unauthorized users of this material. If you are in violation of our intellectual property rights or copyright you may be liable for damages, loss of income, any profits you derive from the unauthorized use of this material and, where appropriate, the cost of collection and/or any statutory damages awarded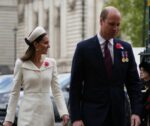 North America Rights Only – London, UK -20220425-Service of Commemoration and Thanksgiving commemorating Anzac Day at Westminster Abbey. Anzac Day has been observed in London since King George V attended the first service at Westminster Abbey in 1916 to mark the anniversary of the landings at Gallipoli.-PICTURED: Catherine Duchess of Cambridge, Prince William-PHOTO by: PA Images/INSTARimages.comDisclaimer:This is an editorial, rights-managed image. Please contact INSTAR Images for licensing fee and rights information at sales@instarimages.com or call +1 212 414 0207. This image may not be published in any way that is, or might be deemed to be, defamatory, libelous, pornographic, or obscene. Please consult our sales department for any clarification needed prior to publication and use. INSTAR Images reserves the right to pursue unauthorized users of this material. If you are in violation of our intellectual property rights or copyright you may be liable for damages, loss of income, any profits you derive from the unauthorized use of this material and, where appropriate, the cost of collection and/or any statutory damages awardedFor images containing underage children: Be advised that some Countries may have restricted privacy laws against publishing images of underage children. Inform yourself! Underage children may need to be removed or have their face pixelated before publishing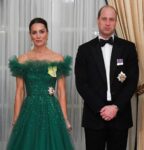 North America Rights Only – London, UK -20220323- Prince William and Catherine Duchess of Cambridge arrive for a dinner hosted by Patrick Allen, Governor General of Jamaica, at King's House, in Kingston, Jamaica, on day five of the royal tour of the Caribbean on behalf of the Queen to mark her Platinum Jubilee. -PICTURED: Prince William, Catherine Duchess of Cambridge, Patrick Allen, Lady Patricia Allen -PHOTO by: PA Images/INSTARimages.com Disclaimer: This is an editorial, rights-managed image. Please contact INSTAR Images for licensing fee and rights information at sales@instarimages.com or call +1 212 414 0207. This image may not be published in any way that is, or might be deemed to be, defamatory, libelous, pornographic, or obscene. Please consult our sales department for any clarification needed prior to publication and use. INSTAR Images reserves the right to pursue unauthorized users of this material. If you are in violation of our intellectual property rights or copyright you may be liable for damages, loss of income, any profits you derive from the unauthorized use of this material and, where appropriate, the cost of collection and/or any statutory damages awarded For images containing underage children: Be advised that some Countries may have restricted privacy laws against publishing images of underage children. Inform yourself! Underage children may need to be removed or have their face pixelated before publishing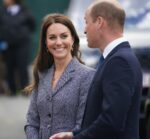 North America Rights Only – Manchester, UK -20220510-Prince William and Catherine Duchess Of Cambridge attend the official opening of the Glade of Light Memorial, commemorating the victims of the 22nd May 2017 terrorist attack at Manchester Arena.-PICTURED: Prince William, Catherine Duchess Of Cambridge-PHOTO by: PA Images/INSTARimages.comDisclaimer:This is an editorial, rights-managed image. Please contact INSTAR Images for licensing fee and rights information at sales@instarimages.com or call +1 212 414 0207. This image may not be published in any way that is, or might be deemed to be, defamatory, libelous, pornographic, or obscene. Please consult our sales department for any clarification needed prior to publication and use. INSTAR Images reserves the right to pursue unauthorized users of this material. If you are in violation of our intellectual property rights or copyright you may be liable for damages, loss of income, any profits you derive from the unauthorized use of this material and, where appropriate, the cost of collection and/or any statutory damages awardedFor images containing underage children: Be advised that some Countries may have restricted privacy laws against publishing images of underage children. Inform yourself! Underage children may need to be removed or have their face pixelated before publishing