Peter Hunt is one of the rare royal commentators who actually makes good points about the Windsors and their shenanigans. Hunt has done insightful commentary about the Duke and Duchess of Sussex from the start, especially when they Sussexited out of there. Hunt has consistently said that, actually, the monarchy desperately needs Harry and Meghan. Hunt has consistently theorized after the Queen passes, King Charles would and should invite Harry and Meghan to be "half-in" the institution, as Harry and Meghan offered in January 2020. Following Harry and Meghan's big church walk on June 3, Hunt said: "For the briefest of moments, Harry and Meghan were back being active Windsors. The institution didn't crumble. The royals need them, but are unlikely to acknowledge what they've lost given the hurt felt by all sides." Meaning that the Windsors' asses hurt too much for them to apologize for launching a massive campaign of hate and racism against Meghan.
I bring up Hunt's insightful commentary because Tina Brown comes to a similar conclusion, only she refuses to acknowledge that, you know, Harry and Meghan can't be ordered around anymore or that they had every reason to walk away (and stay away permanently).
Prince Harry could be set to rejoin a slimmed-down monarchy as Prince William and Kate Middleton are already 'under pressure', according to one expert. Tina Brown, author of The Palace Papers, claims the royal family "are going to need Harry back" following his exit from the firm as a working member.
The royal expert believes Prince Charles and Prince William will seek to include the Duke of Sussex in the future to help relieve the firm of its huge workload, reports the Daily Star. Speaking on the Guardian's podcast Today in Focus, the biographer said "there is a great effort" to put the attention on the heir, Charles and the Cambridges.
When asked what the smaller Firm is starting to look like, Ms Brown said: "It's looking a bit skeletal, because they weren't supposed to be losing Andrew or Harry, so a bit of a problem slimmed-down monarchy at the moment. I think there is excessive pressure on the Cambridges at the moment to be essentially taking up the slack for both Harry and Andrew. And I do think at a certain point they are going to need Harry back, particularly probably after the Queen dies, because he was an asset."
Brown said something similar when she promoted The Palace Papers. She claimed, out of nowhere, that "Harry is going to want to come back when the Queen dies to serve his country. And I think they will find a way to reel him in. And it's possible that Meghan – maybe they will have a commuter arrangement." Brown truly thinks that it would be as simple as Harry suddenly realizing that his family desperately needs him and he will come running back to help ease the "excessive pressure" on the Keens. Nope. Now, I agree that the family NEEDS Harry back. But needing and wanting him back is not the same thing as working out an actual arrangement for him to come back safely. Anyway, this is all they have to hold over Harry at this point. He "needs to come back" because his poor, angry, very-much-not-a-racist brother is so excessively burdened. Oh well y'all.
Photos courtesy of Avalon Red, Instar.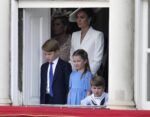 North America Rights Only, London, England – 20220602- Day One Of Platinum Jubilee Celebrations The four days of celebrations will include public events and community activities, as well as national moments of reflection on The Queen's 70 years of service. -PICTURED: Catherine Duchess of Cambridge, Prince George, Prince Luois, Princess Charlotte -PHOTO by: PA Images/INSTARimages.com -67244070 Disclaimer: This is an editorial, rights-managed image. Please contact INSTAR Images for licensing fee and rights information at sales@instarimages.com or call +1 212 414 0207. This image may not be published in any way that is, or might be deemed to be, defamatory, libelous, pornographic, or obscene. Please consult our sales department for any clarification needed prior to publication and use. INSTAR Images reserves the right to pursue unauthorized users of this material. If you are in violation of our intellectual property rights or copyright you may be liable for damages, loss of income, any profits you derive from the unauthorized use of this material and, where appropriate, the cost of collection and/or any statutory damages awarded For images containing underage children: Be advised that some Countries may have restricted privacy laws against publishing images of underage children. Inform yourself! Underage children may need to be removed or have their face pixelated before publishing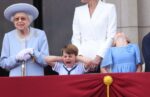 Queen Elizabeth II, Prince Louis, Princess Charlotte on the balcony of Buckingham Palace for the fly past after Trooping The Colour – The Queen's Birthday Parade, London, UK – 02 Jun 2022,Image: 696417262, License: Rights-managed, Restrictions: -, Model Release: no, Credit line: Ian Vogler / Avalon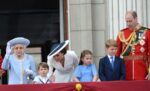 Photo Must Be Credited ©Alpha Press 078237 02/06/2022Queen Elizabeth II, Kate Duchess of Cambridge Catherine Katherine Middleton, Prince Louis of Cambridge, Princess Charlotte of Cambridge, Prince George of Cambridge, Prince William Duke of Cambridge during Trooping the Colour part of the Platinum Jubilee celebrations at Buckingham Palace in London.,Image: 696435044, License: Rights-managed, Restrictions: , Model Release: no, Credit line: Alpha Press / Avalon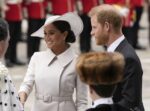 Prince Harry and Meghan Markle, Duke and Duchess of Sussex arrive for a service of thanksgiving for the reign of Queen Elizabeth II at St Paul's Cathedral in London, Friday, June 3, 2022 on the second of four days of celebrations to mark the Platinum Jubilee. The events over a long holiday weekend in the U.K. are meant to celebrate the monarch's 70 years of service.,Image: 696611759, License: Rights-managed, Restrictions: -, Model Release: no, Credit line: Matt Dunham / Avalon
LONDON, ENGLAND – JUNE 03: Prince Harry, Duke of Sussex, and Meghan, Duchess of Sussex attend the National Service of Thanksgiving at St Paul's Cathedral on June 03, 2022 in London, England. The Platinum Jubilee of Elizabeth II is being celebrated from June 2 to June 5, 2022, in the UK and Commonwealth to mark the 70th anniversary of the accession of Queen Elizabeth II on 6 February 1952.,Image: 696611774, License: Rights-managed, Restrictions: -, Model Release: no, Credit line: Dan Kitwood / Avalon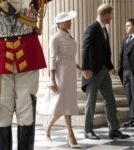 Prince Harry and Meghan Markle, Duke and Duchess of Sussex arrive for a service of thanksgiving for the reign of Queen Elizabeth II at St Paul's Cathedral in London, Friday, June 3, 2022 on the second of four days of celebrations to mark the Platinum Jubilee. The events over a long holiday weekend in the U.K. are meant to celebrate the monarch's 70 years of service.,Image: 696614407, License: Rights-managed, Restrictions: -, Model Release: no, Credit line: Matt Dunham / Avalon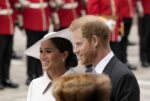 Prince Harry and Meghan Markle, Duke and Duchess of Sussex arrive for a service of thanksgiving for the reign of Queen Elizabeth II at St Paul's Cathedral in London, Friday, June 3, 2022 on the second of four days of celebrations to mark the Platinum Jubilee. The events over a long holiday weekend in the U.K. are meant to celebrate the monarch's 70 years of service.,Image: 696621832, License: Rights-managed, Restrictions: -, Model Release: no, Credit line: Matt Dunham / Avalon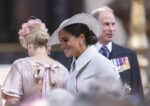 Meghan Markle, Duchess of Sussex, arrives for a service of thanksgiving for the reign of Queen Elizabeth II at St Paul's Cathedral in London, Friday, June 3, 2022 on the second of four days of celebrations to mark the Platinum Jubilee. The events over a long holiday weekend in the U.K. are meant to celebrate the monarch's 70 years of service.,Image: 696627138, License: Rights-managed, Restrictions: -, Model Release: no, Credit line: Ian Vogler / Avalon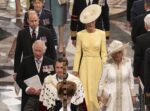 LONDON, ENGLAND – JUNE 03: Prince William, Duke of Cambridge, Catherine, Duchess of Cambridge, Prince Charles, Prince of Wales and Camilla, Duchess of Cornwall depart the National Service of Thanksgiving at St Paul's Cathedral on June 03, 2022 in London, England. The Platinum Jubilee of Elizabeth II is being celebrated from June 2 to June 5, 2022, in the UK and Commonwealth to mark the 70th anniversary of the accession of Queen Elizabeth II on 6 February 1952.,Image: 696661979, License: Rights-managed, Restrictions: -, Model Release: no, Credit line: Dan Kitwood / Avalon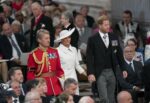 Meghan, Duchess of Sussex, and Prince Harry, Duke of Sussex arrive for the National Service of Thanksgiving at St Paul's Cathedral on June 03, 2022 in London, England. The Platinum Jubilee of Elizabeth II is being celebrated from June 2 to June 5, 2022, in the UK and Commonwealth to mark the 70th anniversary of the accession of Queen Elizabeth II on 6 February 1952.,Image: 696678053, License: Rights-managed, Restrictions: -, Model Release: no, Credit line: ARTHUR EDWARDS / Avalon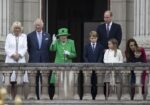 Queen Elizabeth II on the balcony of Buckingham Palace with Prince Charles, Camilla, Duchess of Cornwall, Prince William , Catherine, Duchess of Cambridge,, Prince George, Princess Charlotte and Prince Louis at the end of the Pageant on the final day of the Platinum Jubilee celebrations in London.,Image: 697182635, License: Rights-managed, Restrictions: -, Model Release: no, Credit line: Stephen Lock / Avalon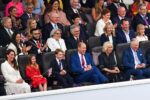 North America Rights Only. – London, UK -20220604-During the Platinum Party at the Palace staged in front of Buckingham Palace, London, on day three of the Platinum Jubilee celebrations for Queen Elizabeth II.-PICTURED: Catherine Duchess of Cambridge, Prince William, Prince George, Princess Charlotte, Camilla Duchess of Cornwall, Prince Charles-PHOTO by: Niklas Halle'n/PA Images/INSTARimages.comDisclaimer:This is an editorial, rights-managed image. Please contact INSTAR Images for licensing fee and rights information at sales@instarimages.com or call +1 212 414 0207. This image may not be published in any way that is, or might be deemed to be, defamatory, libelous, pornographic, or obscene. Please consult our sales department for any clarification needed prior to publication and use. INSTAR Images reserves the right to pursue unauthorized users of this material. If you are in violation of our intellectual property rights or copyright you may be liable for damages, loss of income, any profits you derive from the unauthorized use of this material and, where appropriate, the cost of collection and/or any statutory damages awardedFor images containing underage children: Be advised that some Countries may have restricted privacy laws against publishing images of underage children. Inform yourself! Underage children may need to be removed or have their face pixelated before publishing