I saw several headlines about Prince William's appearance at Garter Day at Windsor Castle on Monday. The headlines were all about how William looked "dour" or "grim-faced." Not to defend Baldemort, but really? William looked the same at Garter Day that he looks at most events. I even think he looked a little bit cheerful in some photos. The thing is, he wasn't doing that processional walk to the castle with a smile on his face, unlike most of the other knights. William did look a bit constipated for that. My theory is that he hates being photographed in the same frame as his uncle Edward, because they look so much alike. Still, it's very weird that so many British outlets noted that William looked anything less than perfect and future-kingly. So they had to come up with a story to explain it:
Prince William cut a "dour and miserable-looking figure" at the Order of Garter ceremony today amid a row over his uncle Prince Andrew, a body language expert has said. The royals took a "family decision" to limit disgraced Andrew's appearance on Garter Day to a behind-the-scenes lunch and investiture ceremony.
Therefore Andrew was not seen in public during the event, one of the most colourful in the royal calendar, after Prince Charles and William reportedly lobbied the Queen about his participation.
It was later reported that William warned he would pull out of the ceremony if his disgraced uncle was allowed to take part. According to the Evening Standard, William was "so alarmed" at the prospect of Andrew taking part in the event, that he made it clear that unless the Duke of York was dropped from taking part in public, he would not be taking part.
And according to body language expert Judi James, William appeared to almost be hiding and keeping out of the spotlight during the event – and only perked up when standing next to his wife Kate and aunt Sophie Wessex.
That body language expert claimed that William's expression was dour for a reason, because he's making a conscious effort to not upstage his father. Kate did not get that memo, because she was keening and preening the entire time she was there. As for William threatening to pull out of Garter Day if Andrew was part of the procession… yeah, doubtful. I mean, I'm sure William threatens to do or NOT do crazy sh-t all the time. But clearly, he had no problem with Andrew attending the Garter ceremony, because Andrew was there, he just didn't do the public procession. Plus, William always wants to take credit for whatever moves Charles has made behind the scenes. William thinks taking credit for Charles's machinations makes him look big and important. Charles was the one who managed to get Andrew out of sight. William had nothing to do with it.
Photos courtesy of Avalon Red, Instar.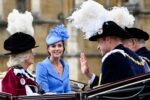 North America Rights Only, Windsor, England – 20220613- Order Of The Garter Service -PICTURED: Camila Duchess of Cornwall, Catherine Duchess of Cambridge, Prince William, Prince Charles -PHOTO by: PA Images/INSTARimages.com -67415778 Disclaimer: This is an editorial, rights-managed image. Please contact INSTAR Images for licensing fee and rights information at sales@instarimages.com or call +1 212 414 0207. This image may not be published in any way that is, or might be deemed to be, defamatory, libelous, pornographic, or obscene. Please consult our sales department for any clarification needed prior to publication and use. INSTAR Images reserves the right to pursue unauthorized users of this material. If you are in violation of our intellectual property rights or copyright you may be liable for damages, loss of income, any profits you derive from the unauthorized use of this material and, where appropriate, the cost of collection and/or any statutory damages awarded For images containing underage children: Be advised that some Countries may have restricted privacy laws against publishing images of underage children. Inform yourself! Underage children may need to be removed or have their face pixelated before publishing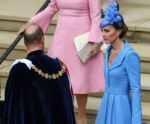 Not Available For Publication In The UK – Windsor, UK -20220613-Knights of the Garter, led by Prince Charles, attend The Service for the Most Noble Order of the Garter which is held in St. George's Chapel at Windsor Castle. New recipients of The Order of the Garter this year are Camilla Duchess of Cornwall, Baroness Amos and Tony Blair.-PICTURED: Prince William, Catherine Duchess of Cambridge-PHOTO by: John Rainford/Cover Images/INSTARimages.com-51670627.jpgThis is an editorial, rights-managed image. Please contact Instar Images LLC for licensing fee and rights information at sales@instarimages.com or call +1 212 414 0207 This image may not be published in any way that is, or might be deemed to be, defamatory, libelous, pornographic, or obscene. Please consult our sales department for any clarification needed prior to publication and use. Instar Images LLC reserves the right to pursue unauthorized users of this material. If you are in violation of our intellectual property rights or copyright you may be liable for damages, loss of income, any profits you derive from the unauthorized use of this material and, where appropriate, the cost of collection and/or any statutory damages awarded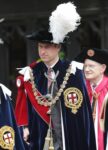 WINDSOR, ENGLAND – JUNE 13: Prince William, Duke of Cambridge attends the Order Of The Garter Service at St George's Chapel on June 13, 2022 in Windsor, England. The Order of the Garter is the oldest and most senior Order of Chivalry in Britain, established by King Edward III nearly 700 years ago.,Image: 699332621, License: Rights-managed, Restrictions: , Model Release: no, Credit line: Chris Jackson / Avalon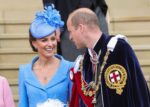 WINDSOR, ENGLAND – JUNE 13: Catherine, Duchess of Cambridge and Prince William, Duke of Cambridge attend the Order Of The Garter Service at St George's Chapel on June 13, 2022 in Windsor, England. The Order of the Garter is the oldest and most senior Order of Chivalry in Britain, established by King Edward III nearly 700 years ago.,Image: 699346947, License: Rights-managed, Restrictions: , Model Release: no, Credit line: Chris Jackson / Avalon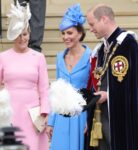 WINDSOR, ENGLAND – JUNE 13: Sophie Rhys-Jones – Countess of Wessex, Catherine, Duchess of Cambridge and Prince William, Duke of Cambridge attend the Order Of The Garter Service at St George's Chapel on June 13, 2022 in Windsor, England. The Order of the Garter is the oldest and most senior Order of Chivalry in Britain, established by King Edward III nearly 700 years ago.,Image: 699346955, License: Rights-managed, Restrictions: , Model Release: no, Credit line: Chris Jackson / Avalon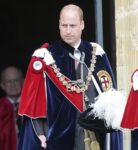 WINDSOR, ENGLAND – JUNE 13: Prince William, Duke of Cambridge attends the Order Of The Garter Service at St George's Chapel on June 13, 2022 in Windsor, England. The Order of the Garter is the oldest and most senior Order of Chivalry in Britain, established by King Edward III nearly 700 years ago.,Image: 699347323, License: Rights-managed, Restrictions: , Model Release: no, Credit line: Chris Jackson / Avalon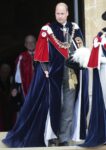 WINDSOR, ENGLAND – JUNE 13: Prince William, Duke of Cambridge attends the Order Of The Garter Service at St George's Chapel on June 13, 2022 in Windsor, England. The Order of the Garter is the oldest and most senior Order of Chivalry in Britain, established by King Edward III nearly 700 years ago.,Image: 699347323, License: Rights-managed, Restrictions: , Model Release: no, Credit line: Chris Jackson / Avalon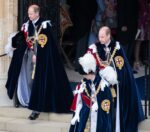 Prince Richard the Duke of Gloucester, Princess Anne the Princess Royal followed by Prince Edward The Earl of Wessex and Prince William The Duke Of Cambridge depart a Service for the Most Noble Order of the Garter in St. George's Chapel at Windsor Castle, London, England, UK on Monday 13 June, 2022 where The Duchess of Cornwall will be installed as a Royal Lady of the Order of the Garter. A Lady Companion, the Baroness Amos, and a Knight Companion, Sir Anthony Blair, will also be installed..,Image: 699354235, License: Rights-managed, Restrictions: Please credit photographer and agency when publishing as Justin Ng/UPPA/Avalon., Model Release: no, Credit line: Justin Ng / Avalon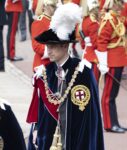 Image Licensed to i-Images Picture Agency. 13/06/2022. Windsor , United Kingdom. Prince William at the Garter Day service at Windsor Castle, United Kingdom.,Image: 699363855, License: Rights-managed, Restrictions: Licenced to i-Images Picture Agency. All Rights Reserved. UK copyright law applies to all print online publications. i-Images space rates apply to all images. Magazines contact agency for fees before use. Images Single use only then repro fees apply. Info@i-images.co Tel: 07860204379, Model Release: no, Credit line: Stephen Lock / i-Images / Avalon