During any given British monarch's reign, the monarch has four counsellors of state, people who can step in and do the work of the Crown in case the monarch is incapacitated or out of the country. Currently, Queen Elizabeth's counsellors of state are Prince Charles, Prince William, Prince Andrew and Prince Harry. See the problem? It's not a new problem either, there have been calls for the Queen to change her counsellors of state since 2020, when Andrew initially "stepped back" from public duties and when Harry sussexited out of there. Since the Queen's health has declined so rapidly over the past eight months, there's been a renewed conversation about how Harry needs to be removed immediately, or Harry and Andrew need to be gone forever. Nothing has happened. Even as the Queen cancels her biggest and most important duties as head of state, nothing has happened.
Now, I suspect that no movement has been made to remove Harry and Andrew as counsellors of state because the Queen is doing so poorly. It's weird, right? But I'm starting to think that Charles simply knows he's around to do almost everything and why kick the hornet's nest right now when he could simply wait until he takes over and then appoint his own counsellors of state. When Charles does appoint his own, his counsellors will likely be Prince William, Princess Anne, Camilla and… maybe Prince Edward, but I doubt it. It would be bold if Charles kept Harry on as a counsellor of state. But I also suspect that's one of the reasons why Harry has retained the Sussexes' lease on Frogmore Cottage, to maintain a residence in the UK so technically he qualifies as a counsellor of state.
I also wonder if some of this will be dealt with during the Fakakta Jubbly. Harry will be in town, Andrew will be itching to make appearances, I wonder if Charles is going to deal with some of this sh-t in person.
Photos courtesy of Avalon Red, Instar.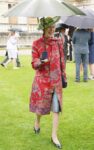 North America Rights Only – London, UK -20220511-Royal Garden Party At Buckingham Palace -PICTURED: Princess Anne -PHOTO by: Jonathan Brady/PA IMAGES/INSTARimages.com Disclaimer: This is an editorial, rights-managed image. Please contact INSTAR Images for licensing fee and rights information at sales@instarimages.com or call +1 212 414 0207. This image may not be published in any way that is, or might be deemed to be, defamatory, libelous, pornographic, or obscene. Please consult our sales department for any clarification needed prior to publication and use. INSTAR Images reserves the right to pursue unauthorized users of this material. If you are in violation of our intellectual property rights or copyright you may be liable for damages, loss of income, any profits you derive from the unauthorized use of this material and, where appropriate, the cost of collection and/or any statutory damages awarded For images containing underage children: Be advised that some Countries may have restricted privacy laws against publishing images of underage children. Inform yourself! Underage children may need to be removed or have their face pixelated before publishing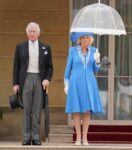 North America Rights Only – London, UK -20220511-Royal Garden Party At Buckingham Palace-PICTURED: Prince Charles and Camilla Duchess of Cornwall-PHOTO by: Jonathan Brady/PA IMAGES/INSTARimages.comDisclaimer:This is an editorial, rights-managed image. Please contact INSTAR Images for licensing fee and rights information at sales@instarimages.com or call +1 212 414 0207. This image may not be published in any way that is, or might be deemed to be, defamatory, libelous, pornographic, or obscene. Please consult our sales department for any clarification needed prior to publication and use. INSTAR Images reserves the right to pursue unauthorized users of this material. If you are in violation of our intellectual property rights or copyright you may be liable for damages, loss of income, any profits you derive from the unauthorized use of this material and, where appropriate, the cost of collection and/or any statutory damages awardedFor images containing underage children: Be advised that some Countries may have restricted privacy laws against publishing images of underage children. Inform yourself! Underage children may need to be removed or have their face pixelated before publishing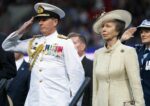 North America Rights Only – Sydney, Australia -20220409-Princess Anne, The Princess Royal during day one of the royal trip to Australia on behalf of the Queen-PICTURED: Princess Anne-PHOTO by: Kirsty O`Connor/PA IMAGES/INSTARimages.comDisclaimer:This is an editorial, rights-managed image. Please contact INSTAR Images for licensing fee and rights information at sales@instarimages.com or call +1 212 414 0207. This image may not be published in any way that is, or might be deemed to be, defamatory, libelous, pornographic, or obscene. Please consult our sales department for any clarification needed prior to publication and use. INSTAR Images reserves the right to pursue unauthorized users of this material. If you are in violation of our intellectual property rights or copyright you may be liable for damages, loss of income, any profits you derive from the unauthorized use of this material and, where appropriate, the cost of collection and/or any statutory damages awardedFor images containing underage children: Be advised that some Countries may have restricted privacy laws against publishing images of underage children. Inform yourself! Underage children may need to be removed or have their face pixelated before publishing
Prince Charles processes along the Royal gallery with the Duchess of Cornwall and Prince William during the ceremonial state opening of Parliament which The Queen was unable to attend due to her health.,Image: 690017831, License: Rights-managed, Restrictions: , Model Release: no, Credit line: RICHARD POHLE / Avalon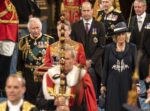 Prince Charles processes along the Royal gallery with the Duchess of Cornwall and Prince William during the ceremonial state opening of Parliament which The Queen was unable to attend due to her health.,Image: 690017924, License: Rights-managed, Restrictions: , Model Release: no, Credit line: RICHARD POHLE / Avalon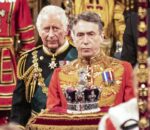 Prince Charles processes along the Royal gallery with the Duchess of Cornwall and Prince William during the ceremonial state opening of Parliament which The Queen was unable to attend due to her health.,Image: 690018043, License: Rights-managed, Restrictions: , Model Release: no, Credit line: RICHARD POHLE / Avalon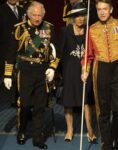 Image Licensed to i-Images Picture Agency. 10/05/2022. London, United Kingdom. Prince Charles and Camilla at the State Opening of Parliament in London. Queen Elizabeth II missed the ceremony for the first time in 59 years because of mobility issues .,Image: 690028213, License: Rights-managed, Restrictions: Licenced to i-Images Picture Agency. All Rights Reserved. UK copyright law applies to all print online publications. i-Images space rates apply to all images.Magazines contact agency for fees before use.Images Single use only then repro fees apply.Info@i-images.coTel: 07860204379, Model Release: no, Credit line: Stephen Lock / i-Images / Avalon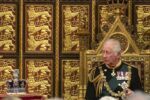 LONDON, ENGLAND – MAY 10: Prince Charles, Prince of Wales looks towards the Imperial State Crown as he delivers the Queen'Äôs Speech during the state opening of Parliament at the House of Lords on May 10, 2022 in London, England. The State Opening of Parliament formally marks the beginning of the new session of Parliament. It includes Queen's Speech, prepared for her to read from the throne, by her government outlining its plans for new laws being brought forward in the coming parliamentary year. This year the speech will be read by the Prince of Wales as HM The Queen will miss the event due to ongoing mobility issues.,Image: 690035436, License: Rights-managed, Restrictions: , Model Release: no, Credit line: Dan Kitwood / Avalon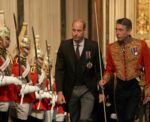 North America Rights Only – London, UK -20220510- State Opening Of Parliament -PICTURED: Prince William -PHOTO by: PA Images/INSTARimages.com Disclaimer: This is an editorial, rights-managed image. Please contact INSTAR Images for licensing fee and rights information at sales@instarimages.com or call +1 212 414 0207. This image may not be published in any way that is, or might be deemed to be, defamatory, libelous, pornographic, or obscene. Please consult our sales department for any clarification needed prior to publication and use. INSTAR Images reserves the right to pursue unauthorized users of this material. If you are in violation of our intellectual property rights or copyright you may be liable for damages, loss of income, any profits you derive from the unauthorized use of this material and, where appropriate, the cost of collection and/or any statutory damages awarded For images containing underage children: Be advised that some Countries may have restricted privacy laws against publishing images of underage children. Inform yourself! Underage children may need to be removed or have their face pixelated before publishing
North America Rights Only – London, UK -20220510- State Opening Of Parliament -PICTURED: Prince William, Prince Charles, Camilla Duchess of Cornwall -PHOTO by: PA Images/INSTARimages.com Disclaimer: This is an editorial, rights-managed image. Please contact INSTAR Images for licensing fee and rights information at sales@instarimages.com or call +1 212 414 0207. This image may not be published in any way that is, or might be deemed to be, defamatory, libelous, pornographic, or obscene. Please consult our sales department for any clarification needed prior to publication and use. INSTAR Images reserves the right to pursue unauthorized users of this material. If you are in violation of our intellectual property rights or copyright you may be liable for damages, loss of income, any profits you derive from the unauthorized use of this material and, where appropriate, the cost of collection and/or any statutory damages awarded For images containing underage children: Be advised that some Countries may have restricted privacy laws against publishing images of underage children. Inform yourself! Underage children may need to be removed or have their face pixelated before publishing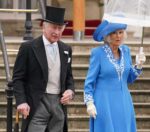 North America Rights Only – London, UK -20220511-Royal Garden Party At Buckingham Palace-PICTURED: Prince Charles and Camilla Duchess of Cornwall-PHOTO by: Jonathan Brady/PA IMAGES/INSTARimages.comDisclaimer:This is an editorial, rights-managed image. Please contact INSTAR Images for licensing fee and rights information at sales@instarimages.com or call +1 212 414 0207. This image may not be published in any way that is, or might be deemed to be, defamatory, libelous, pornographic, or obscene. Please consult our sales department for any clarification needed prior to publication and use. INSTAR Images reserves the right to pursue unauthorized users of this material. If you are in violation of our intellectual property rights or copyright you may be liable for damages, loss of income, any profits you derive from the unauthorized use of this material and, where appropriate, the cost of collection and/or any statutory damages awardedFor images containing underage children: Be advised that some Countries may have restricted privacy laws against publishing images of underage children. Inform yourself! Underage children may need to be removed or have their face pixelated before publishing