There was unsurprisingly a lot of commentary about Prince Andrew's hijacking of his father's memorial service. Prince Charles and William were said to be stunned when Andrew walked Queen Elizabeth II down Westminster Abbey, because that was not the staging plan at all. Andrew is said to be somewhat defiant and shameless about everything, especially since he still has his mother's ear and she's obviously 100% behind him, signing off on everything he does and everything he wants. Now there's talk that Andrew wants to join in on some Platinum Jubbly events and his mother is all for it. Becky English said on that Mail+ chat, "What I have heard for a very long time is that Andrew does see her on a daily basis, he does have her ear, there is a lot of chatter that goes into that ear and he tends to get his own way that way." The Queen could shut him down if she wanted to, but she doesn't. So now royal commentators are trying to pretend that Charles and William will shut down Andrew:
Royal commentator Richard Fitzwilliams has now suggested there is 'no way' William and Charles will accept Andrew's part in the Jubilee celebrations. He told the Mirror: 'In terms of royal events, I don't expect we will see Prince Andrew appear in the near future – if ever again. He won't play any kind of a role in the Queen's Platinum Jubilee, of that I think we can be quite sure. Prince Charles and William will be totally opposed to it, it's a non-starter.'
A family source said that senior royals – including Prince Charles and the Duke of Cambridge – were 'dismayed' by events and that Andrew's decision to put himself 'front and centre' of the service had caused 'consternation'. However, experts have also suggested walk with Andrew was the Queen's way of signalling it's 'ok' and that Her Majesty is 'very clearly stating that he has a role at family occasions'.
Vanity Fair royal editor Katie Nichol said the Queen 'deliberately chose to have Andrew play such a prominent role' to show the public 'she still makes decisions'.
'This was the Queen's way of showing two things; one, that the buck stops with her, and she makes the decisions, and secondly that she believes he's innocent. She made the point very, very clearly. But Charles and William were very aware of the perspective, of the optics of this. Unfortunately, this picture [of Prince Andrew escorting the Queen] has overtaken what should have been a memorial to a great man.'
Royal commentators seem to have an issue with saying it outright, so I will: William and Charles can't do sh-t as long as the Queen is alive. Charles can whine, William can try to bully his grandmother, but ultimately Liz is gonna Liz, and that means she's ride-or-die for her degenerate son. Every time she flaunts her closeness to Andrew, she weakens both William and Charles and makes it seem like she doesn't value their input, nor will she take them under advisement. The way she's screwing over her heirs and the institution… whew! It's almost like Liz and Charles are battling to see who gets to end the monarchy first.
Photos courtesy of Backgrid, Instar, Avalon Red.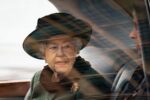 North America Rights Only – London, UK -20220329- Service of Thanksgiving for the life of Prince Philip at Westminster Abbey -PICTURED: Queen Elizabeth II -PHOTO by: PA Images/INSTARimages.com Disclaimer: This is an editorial, rights-managed image. Please contact INSTAR Images for licensing fee and rights information at sales@instarimages.com or call +1 212 414 0207. This image may not be published in any way that is, or might be deemed to be, defamatory, libelous, pornographic, or obscene. Please consult our sales department for any clarification needed prior to publication and use. INSTAR Images reserves the right to pursue unauthorized users of this material. If you are in violation of our intellectual property rights or copyright you may be liable for damages, loss of income, any profits you derive from the unauthorized use of this material and, where appropriate, the cost of collection and/or any statutory damages awarded For images containing underage children: Be advised that some Countries may have restricted privacy laws against publishing images of underage children. Inform yourself! Underage children may need to be removed or have their face pixelated before publishing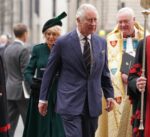 North America Rights Only – London, UK -20220329- Service of Thanksgiving for the life of Prince Philip at Westminster Abbey -PICTURED: Camilla Duchess of Cornwall and Prince Charles -PHOTO by: PA Images/INSTARimages.com Disclaimer: This is an editorial, rights-managed image. Please contact INSTAR Images for licensing fee and rights information at sales@instarimages.com or call +1 212 414 0207. This image may not be published in any way that is, or might be deemed to be, defamatory, libelous, pornographic, or obscene. Please consult our sales department for any clarification needed prior to publication and use. INSTAR Images reserves the right to pursue unauthorized users of this material. If you are in violation of our intellectual property rights or copyright you may be liable for damages, loss of income, any profits you derive from the unauthorized use of this material and, where appropriate, the cost of collection and/or any statutory damages awarded For images containing underage children: Be advised that some Countries may have restricted privacy laws against publishing images of underage children. Inform yourself! Underage children may need to be removed or have their face pixelated before publishing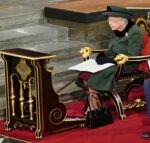 North America Rights Only – London, UK -20220329- Service of Thanksgiving for the life of Prince Philip at Westminster Abbey -PICTURED: Queen Elizabeth II -PHOTO by: PA Images/INSTARimages.com Disclaimer: This is an editorial, rights-managed image. Please contact INSTAR Images for licensing fee and rights information at sales@instarimages.com or call +1 212 414 0207. This image may not be published in any way that is, or might be deemed to be, defamatory, libelous, pornographic, or obscene. Please consult our sales department for any clarification needed prior to publication and use. INSTAR Images reserves the right to pursue unauthorized users of this material. If you are in violation of our intellectual property rights or copyright you may be liable for damages, loss of income, any profits you derive from the unauthorized use of this material and, where appropriate, the cost of collection and/or any statutory damages awarded For images containing underage children: Be advised that some Countries may have restricted privacy laws against publishing images of underage children. Inform yourself! Underage children may need to be removed or have their face pixelated before publishing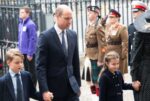 (L_R) Prince George, HRH Prince William – The Duke Of Cambridge, HRH Katherine, The Duchess of Cambridge and daughter Princess Charlotte attends a Service of Thanksgiving for HRH The Prince Philip, Duke of Edinburgh at Westminster Abbey, London, England, UK on Tuesday 29 March, 2022.,Image: 673787498, License: Rights-managed, Restrictions: Please credit photographer and agency when publishing as Justin Ng/UPPA/Avalon., Model Release: no, Credit line: Justin Ng / Avalon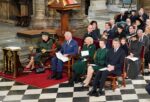 (Front row left to right) Queen Elizabeth II, the Prince of Wales and the Duchess of Cornwall, the Princess Royal, Vice Admiral Sir Tim Laurence. (second row left to right) The Duke of Cambridge, Prince George, Princess Charlotte, the Duchess of Cambridge during a Service of Thanksgiving for the life of the Duke of Edinburgh, at Westminster Abbey in London. Picture date: Tuesday March 29, 2022.,Image: 673795682, License: Rights-managed, Restrictions: NO UK USE FOR 48 HOURS- Fee Payable Upon reproduction – For queries contact Avalon sales@Avalon.red London +44 20 7421 6000 Los Angeles +1 310 822 0419 Berlin +49 30 76 212 251 Madrid +34 91 533 42 89, Model Release: no, Credit line: Avalon.red / Avalon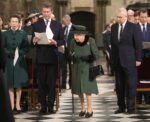 The Queen arrives in Westminster Abbey accompanied by the Duke of York for the service of thanksgiving for the life of Prince Philip.,Image: 673799372, License: Rights-managed, Restrictions: NO UK USE FOR 48 HOURS- Fee Payable Upon reproduction – For queries contact Avalon sales@Avalon.red London +44 20 7421 6000 Los Angeles +1 310 822 0419 Berlin +49 30 76 212 251 Madrid +34 91 533 42 89, Model Release: no, Credit line: Avalon.red / Avalon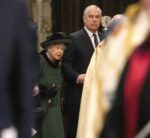 The Queen arrives in Westminster Abbey accompanied by the Duke of York for the service of thanksgiving for the life of Prince Philip.,Image: 673799384, License: Rights-managed, Restrictions: NO UK USE FOR 48 HOURS- Fee Payable Upon reproduction – For queries contact Avalon sales@Avalon.red London +44 20 7421 6000 Los Angeles +1 310 822 0419 Berlin +49 30 76 212 251 Madrid +34 91 533 42 89, Model Release: no, Credit line: Avalon.red / Avalon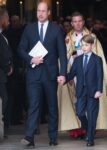 HRH Prince William – The Duke Of Cambridge and son Prince George depart a Service of Thanksgiving for HRH The Prince Philip, Duke of Edinburgh at Westminster Abbey, London, England, UK on Tuesday 29 March, 2022.,Image: 673801165, License: Rights-managed, Restrictions: Please credit photographer and agency when publishing as Justin Ng/UPPA/Avalon., Model Release: no, Credit line: Justin Ng / Avalon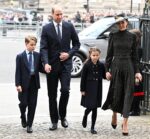 Westminster, UNITED KINGDOM – Service of Thanksgiving for the life of the Duke of Edinburgh at Westminster Abbey. Pictured: Kate Middleton, Prince William, Prince George, Princess Charlotte BACKGRID USA 29 MARCH 2022 USA: +1 310 798 9111 / usasales@backgrid.com UK: +44 208 344 2007 / uksales@backgrid.com *UK Clients – Pictures Containing Children Please Pixelate Face Prior To Publication*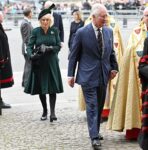 London, UNITED KINGDOM – Public at the Memorial Service of Thanksgiving for the life of Prince Philip, Duke of Edinburgh at Westminster Abbey in London, UK. Pictured: Prince Charles, Camilla, Duchess of Cornwall BACKGRID USA 29 MARCH 2022 USA: +1 310 798 9111 / usasales@backgrid.com UK: +44 208 344 2007 / uksales@backgrid.com *UK Clients – Pictures Containing Children Please Pixelate Face Prior To Publication*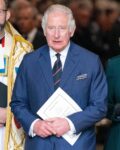 Netherlands and France Out – London, UK -20220329- Memorial Service of Thanksgiving for the life of Prince Philip at Westminster Abbey. -PICTURED: Prince Charles -PHOTO by: Dutch Press Photo/Cover Images/INSTARimages.com -51351949.jpg This is an editorial, rights-managed image. Please contact Instar Images LLC for licensing fee and rights information at sales@instarimages.com or call +1 212 414 0207 This image may not be published in any way that is, or might be deemed to be, defamatory, libelous, pornographic, or obscene. Please consult our sales department for any clarification needed prior to publication and use. Instar Images LLC reserves the right to pursue unauthorized users of this material. If you are in violation of our intellectual property rights or copyright you may be liable for damages, loss of income, any profits you derive from the unauthorized use of this material and, where appropriate, the cost of collection and/or any statutory damages awarded