As I've noted before, the vibe I'm getting from Buckingham Palace and Clarence House is that they're doing a lot to ensure Meghan, Harry, Archie and Lili's visit to the UK in June. While random "courtiers" are leaking random things, what's been especially notable is the lack of self-serving bullsh-t from Prince Charles and the lack of "disrespecting the Queen" narratives. No one is pushing those talking points (so far). Instead, it feels like everyone is acknowledging the fact that the beef was always between William and Harry. The once-close brothers are so dysfunctional that extraordinary steps are being taken to "manage" their inevitable drama. And no surprise, all of the current leaks and narratives are coming straight out of Kensington Palace. Speaking of:
Prince William fears Harry will use details of chats they have at the Platinum Jubilee on his Netflix shows. Sources say Wills is "wary" of his younger brother's decision to attend the Queen's 70th anniversary celebrations. He and Kate, 40, are said to be concerned that Harry, 37, and Meghan, 40, could pull a "stunt" to try to steal the limelight during next month's extravaganza.
Wills was said to be deeply hurt after the Oprah Winfrey interview in which the Sussexes alleged racism against an unnamed royal and said Kate made Meghan cry. He has not seen Harry since last July's unveiling of a statue of their mum, Princess Di.
A source said: "William wants to talk to Harry to try to heal the rift between them but he's fearful it will find its way on to Netflix, Oprah or into Harry's upcoming book."
Royal biographer Tom Bower said: "William will worry that Harry and Meghan will pull a stunt to try to get the limelight. Kate and William would be foolish not to be suspicious and would be unwise not to be cautious."
Stunt-queen, thy name is William. HE is the stunt-queen. So is Kate. They both love a good stunt. They love to set up suspicious pap strolls and leak about their keenness or incandescence. And it has to be said that… William is leaking sh-t about how he's worried that Harry will speak to Netflix. William authorizes staff to run around smearing Harry and Meghan constantly, to this day, and then William assumes an air of wounded innocence, like he's just so worried and upset at the very *idea* that Harry might say something.
Also: I hope Harry and Meghan DO pull some stunts. I hope they are seen doing charity work and I hope they launch some big new project. That would be great!
Photos courtesy of Avalon Red, Instar and Backgrid.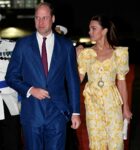 North America Rights Only – Grand Bahama, Bahamas -20220326- The Duke of Cambridge observes the guard of honour during a departure ceremony at Lynden Pindling International Airport as they depart the Bahamas, at the end of their tour of the Caribbean taken on behalf of the Queen to mark her Platinum Jubilee. -PICTURED: Prince William, Catherine Duchess of Cambridge -PHOTO by: INSTARimages.com Disclaimer: This is an editorial, rights-managed image. Please contact INSTAR Images for licensing fee and rights information at sales@instarimages.com or call +1 212 414 0207. This image may not be published in any way that is, or might be deemed to be, defamatory, libelous, pornographic, or obscene. Please consult our sales department for any clarification needed prior to publication and use. INSTAR Images reserves the right to pursue unauthorized users of this material. If you are in violation of our intellectual property rights or copyright you may be liable for damages, loss of income, any profits you derive from the unauthorized use of this material and, where appropriate, the cost of collection and/or any statutory damages awarded For images containing underage children: Be advised that some Countries may have restricted privacy laws against publishing images of underage children. Inform yourself! Underage children may need to be removed or have their face pixelated before publishing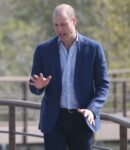 North America Rights Only – Abu Dhabi, United Arab Emirates -20220210-The Duke of Cambridge talks to Sheikh Khaled bin Mohamed bin Zayed Al Nahyan, Chairman of the Abu Dhabi Executive Office, during his visit to Abu Dhabi's wetlands at the Jubail Mangrove Park to learn more about the UAE's efforts to protect the regional flora and fauna from human and environmental challenges, particularly as the country's urban centres continue to grow and develop, as part of his tour of the United Arab Emirates.-PICTURED: Prince William and Sheikh Khaled bin Mohamed bin Zayed Al Nahyan-PHOTO by: Ian Vogler/Daily Mirror/PA Images/INSTARimages.comDisclaimer:This is an editorial, rights-managed image. Please contact INSTAR Images for licensing fee and rights information at sales@instarimages.com or call +1 212 414 0207. This image may not be published in any way that is, or might be deemed to be, defamatory, libelous, pornographic, or obscene. Please consult our sales department for any clarification needed prior to publication and use. INSTAR Images reserves the right to pursue unauthorized users of this material. If you are in violation of our intellectual property rights or copyright you may be liable for damages, loss of income, any profits you derive from the unauthorized use of this material and, where appropriate, the cost of collection and/or any statutory damages awardedFor images containing underage children: Be advised that some Countries may have restricted privacy laws against publishing images of underage children. Inform yourself! Underage children may need to be removed or have their face pixelated before publishing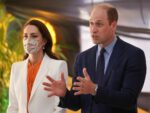 North America Rights Only – Kingston, Jamaica -20220323-The Duke and Duchess of Cambridge and Minister of Health and Wellness, Dr. the Hon. Christopher Tufton, MP unveil a plaque during a visit to Spanish Town Hospital in Kingston, Jamaica, to meet doctors, nurses and other members of staff to hear about their experiences as part of the frontline response to COVID-19 in Jamaica, on day five of the royal tour of the Caribbean on behalf of the Queen to mark her Platinum Jubilee.-PICTURED: Prince William and Catherine Duchess of Cambridge-PHOTO by: PA IMAGES/INSTARimages.comDisclaimer:This is an editorial, rights-managed image. Please contact INSTAR Images for licensing fee and rights information at sales@instarimages.com or call +1 212 414 0207. This image may not be published in any way that is, or might be deemed to be, defamatory, libelous, pornographic, or obscene. Please consult our sales department for any clarification needed prior to publication and use. INSTAR Images reserves the right to pursue unauthorized users of this material. If you are in violation of our intellectual property rights or copyright you may be liable for damages, loss of income, any profits you derive from the unauthorized use of this material and, where appropriate, the cost of collection and/or any statutory damages awardedFor images containing underage children: Be advised that some Countries may have restricted privacy laws against publishing images of underage children. Inform yourself! Underage children may need to be removed or have their face pixelated before publishing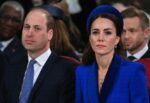 North America Rights Only – London, UK -20220314- Commonwealth Service at Westminster Abbey in London on Commonwealth Day. -PICTURED: Catherine Duchess of Cambridge and Prince William -PHOTO by: Daniel Leal/PA Images/INSTARimages.com Disclaimer: This is an editorial, rights-managed image. Please contact INSTAR Images for licensing fee and rights information at sales@instarimages.com or call +1 212 414 0207. This image may not be published in any way that is, or might be deemed to be, defamatory, libelous, pornographic, or obscene. Please consult our sales department for any clarification needed prior to publication and use. INSTAR Images reserves the right to pursue unauthorized users of this material. If you are in violation of our intellectual property rights or copyright you may be liable for damages, loss of income, any profits you derive from the unauthorized use of this material and, where appropriate, the cost of collection and/or any statutory damages awarded For images containing underage children: Be advised that some Countries may have restricted privacy laws against publishing images of underage children. Inform yourself! Underage children may need to be removed or have their face pixelated before publishing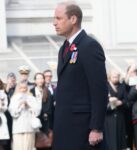 His Royal Highness, Prince William – The Duke Of Cambridge attends ANZAC Day services at The Cenotaph, London, England, UK on Monday 25 April, 2022 with Australian Ambassador George Brandis to his right and New Zealand Ambassador to the UK Bede Corry to his left.,Image: 685917835, License: Rights-managed, Restrictions: Please credit photographer and agency when publishing as Justin Ng/UPPA/Avalon., Model Release: no, Credit line: Justin Ng / Avalon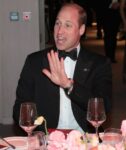 LONDON, ENGLAND – APRIL 25: Prince William, Duke of Cambridge attends The London's Air Ambulance Charity Gala at The Londoner Hotel on April 25, 2022 in London, England. London'Äôs Air Ambulance Charity delivers an advanced trauma team to critically injured people in London every day of the year. The Charity is now preparing to launch a new Appeal later this year to raise funds for two new helicopters.,Image: 686079235, License: Rights-managed, Restrictions: , Model Release: no, Credit line: Chris Jackson / Avalon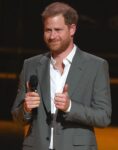 The Hague, NETHERLANDS – The Duke and Duchess of Sussex attend the Invictus Games Opening Ceremony in The Hague, Holland. Pictured: Prince Harry, Duke of Sussex, Meghan Markle, Duchess of Sussex BACKGRID USA 16 APRIL 2022 USA: +1 310 798 9111 / usasales@backgrid.com UK: +44 208 344 2007 / uksales@backgrid.com *UK Clients – Pictures Containing Children Please Pixelate Face Prior To Publication*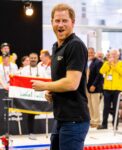 Hofbad, NETHERLANDS – Prince Harry, Duke of Sussex visits swimming matches at the 5th the Invictus Games at Hofbad in The Hague. Pictured: Prince Harry BACKGRID USA 19 APRIL 2022 USA: +1 310 798 9111 / usasales@backgrid.com UK: +44 208 344 2007 / uksales@backgrid.com *UK Clients – Pictures Containing Children Please Pixelate Face Prior To Publication*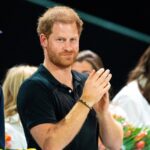 The Hague, NETHERLANDS – Prince Harry, Duke of Sussex visits Wheelchair Rugby during the 5th the Invictus Games at Zuiderpark in The Hague. Pictured: Prince Harry, Duke of Sussex BACKGRID USA 20 APRIL 2022 USA: +1 310 798 9111 / usasales@backgrid.com UK: +44 208 344 2007 / uksales@backgrid.com *UK Clients – Pictures Containing Children Please Pixelate Face Prior To Publication*