Omid Scobie has written a new column for Yahoo News, in his new capacity as the Yahoo News' Royal Editor. The piece is "Why tone-deaf royal tours have had their day" and Scobie has a lot to say about the Duke and Duchess of Cambridge's sad Flop Tour of the Caribbean in March, and how badly the Earl and Countess of Wessex did during their Caribbean Tour a month later. Scobie's not spilling any tea, really, he's just providing analysis for why the model of royal tours is desperate for a revamp, because the old way of doing things just isn't cutting it. Some highlights:
One of my favorite moments about the Cambridges' Flop Tour was the feeling as they left the Bahamas that William and Kate were basically storming out of there in a rage, still huffy about how they had been received in Jamaica and Belize. That was front and center when William issued that angry statement through his staff, without the input of Clarence House or Buckingham Palace. I also loved how immediately the first thought from the palace was "well damn, we need to do fewer tours" as opposed to "we need to stop being so neo-colonialist." The larger problem is that the Windsors find it so difficult to change. Most of them can't, they're incapable.
Photos courtesy of Instar.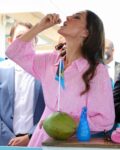 North America Rights Only – Abaco, Bahamas -20220326- The Duke and Duchess of Cambridge during a visit to Daystar Evangelical Church Abaco in The Bahamas, to learn about the impact of Hurricane Dorian in 2019 and to see how communities are still being rebuilt, on day eight of their tour of the Caribbean on behalf of the Queen to mark her Platinum Jubilee. Abaco, a chain of islands and barrier cays in the northern Bahamas, was hit by winds of up to 185mph during Hurricane Dorian in 2019 leaving 75% of homes across the chain of islands damaged and resulting in tragic loss of life. During a visit to Fish Fry in Abaco, a traditional Bahamian culinary/. During a visit to the Memorial Wall to remember victims of the 2019 hurricane at the Memorial Garden in Abaco. During a visit to Grand Bahama Children's Home, which provides a home environment to vulnerable children who are not able to live with their families -PICTURED: Catherine Duchess of Cambridge -PHOTO by: INSTARimages.com Disclaimer: This is an editorial, rights-managed image. Please contact INSTAR Images for licensing fee and rights information at sales@instarimages.com or call +1 212 414 0207. This image may not be published in any way that is, or might be deemed to be, defamatory, libelous, pornographic, or obscene. Please consult our sales department for any clarification needed prior to publication and use. INSTAR Images reserves the right to pursue unauthorized users of this material. If you are in violation of our intellectual property rights or copyright you may be liable for damages, loss of income, any profits you derive from the unauthorized use of this material and, where appropriate, the cost of collection and/or any statutory damages awarded For images containing underage children: Be advised that some Countries may have restricted privacy laws against publishing images of underage children. Inform yourself! Underage children may need to be removed or have their face pixelated before publishi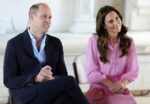 North America Rights Only – Abaco, Bahamas -20220326-The Duke and Duchess of Cambridge during a visit to Daystar Evangelical Church Abaco in The Bahamas, to learn about the impact of Hurricane Dorian in 2019 and to see how communities are still being rebuilt, on day eight of their tour of the Caribbean on behalf of the Queen to mark her Platinum Jubilee. Abaco, a chain of islands and barrier cays in the northern Bahamas, was hit by winds of up to 185mph during Hurricane Dorian in 2019 leaving 75% of homes across the chain of islands damaged and resulting in tragic loss of life. During a visit to Fish Fry in Abaco, a traditional Bahamian culinary/.During a visit to the Memorial Wall to remember victims of the 2019 hurricane at the Memorial Garden in Abaco.During a visit to Grand Bahama Children's Home, which provides a home environment to vulnerable children who are not able to live with their families-PICTURED: Prince William, Catherine Duchess of Cambridge-PHOTO by: INSTARimages.comDisclaimer:This is an editorial, rights-managed image. Please contact INSTAR Images for licensing fee and rights information at sales@instarimages.com or call +1 212 414 0207. This image may not be published in any way that is, or might be deemed to be, defamatory, libelous, pornographic, or obscene. Please consult our sales department for any clarification needed prior to publication and use. INSTAR Images reserves the right to pursue unauthorized users of this material. If you are in violation of our intellectual property rights or copyright you may be liable for damages, loss of income, any profits you derive from the unauthorized use of this material and, where appropriate, the cost of collection and/or any statutory damages awardedFor images containing underage children: Be advised that some Countries may have restricted privacy laws against publishing images of underage children. Inform yourself! Underage children may need to be removed or have their face pixelated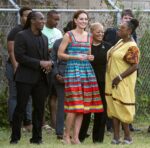 North America Rights Only – Kingston, Jamaica -20220322-Prince William joins young footballers on the football pitch during a visit to Trenchtown as Catherine Duchess of Cmabridge watches on day four of their tour of the Caribbean on behalf of the Queen to mark her Platinum Jubilee.-PICTURED: Catherine Duchess of Cambridge-PHOTO by: Jane Barlow/PA Images/INSTARimages.comDisclaimer:This is an editorial, rights-managed image. Please contact INSTAR Images for licensing fee and rights information at sales@instarimages.com or call +1 212 414 0207. This image may not be published in any way that is, or might be deemed to be, defamatory, libelous, pornographic, or obscene. Please consult our sales department for any clarification needed prior to publication and use. INSTAR Images reserves the right to pursue unauthorized users of this material. If you are in violation of our intellectual property rights or copyright you may be liable for damages, loss of income, any profits you derive from the unauthorized use of this material and, where appropriate, the cost of collection and/or any statutory damages awardedFor images containing underage children: Be advised that some Countries may have restricted privacy laws against publishing images of underage children. Inform yourself! Underage children may need to be removed or have their face pixelated before publishing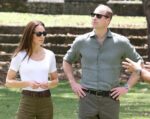 North America Rights Only – Caracol, Belize -20220321-The Duke and Duchess of Cambridge look out from the Caana at Caracol, an ancient Mayan archaeological site deep in the jungle in the Chiquibul Forest in Belize, during their tour of the Caribbean on behalf of the Queen to mark her Platinum Jubilee. -PICTURED: Prince William, Catherine Duchess of Cambridge-PHOTO by: INSTARimages.comDisclaimer:This is an editorial, rights-managed image. Please contact INSTAR Images for licensing fee and rights information at sales@instarimages.com or call +1 212 414 0207. This image may not be published in any way that is, or might be deemed to be, defamatory, libelous, pornographic, or obscene. Please consult our sales department for any clarification needed prior to publication and use. INSTAR Images reserves the right to pursue unauthorized users of this material. If you are in violation of our intellectual property rights or copyright you may be liable for damages, loss of income, any profits you derive from the unauthorized use of this material and, where appropriate, the cost of collection and/or any statutory damages awardedFor images containing underage children: Be advised that some Countries may have restricted privacy laws against publishing images of underage children. Inform yourself! Underage children may need to be removed or have their face pixelated before publishing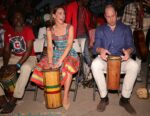 North America Rights Only – Kingston, Jamaica -20220322- Prince William and Catherine Duchess of Cambridge meet locals during a visit Trench Town, the birthplace of reggae in Kingston, Jamaica, on day four of their tour of the Caribbean on behalf of the Queen to mark her Platinum Jubilee. -PICTURED: Prince William and Catherine Duchess of Cambridge -PHOTO by: Chris Jackson/PA Images/INSTARimages.com Disclaimer: This is an editorial, rights-managed image. Please contact INSTAR Images for licensing fee and rights information at sales@instarimages.com or call +1 212 414 0207. This image may not be published in any way that is, or might be deemed to be, defamatory, libelous, pornographic, or obscene. Please consult our sales department for any clarification needed prior to publication and use. INSTAR Images reserves the right to pursue unauthorized users of this material. If you are in violation of our intellectual property rights or copyright you may be liable for damages, loss of income, any profits you derive from the unauthorized use of this material and, where appropriate, the cost of collection and/or any statutory damages awarded For images containing underage children: Be advised that some Countries may have restricted privacy laws against publishing images of underage children. Inform yourself! Underage children may need to be removed or have their face pixelated before publishing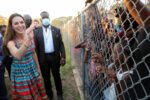 North America Rights Only – Kingston, Jamaica -20220322- Prince William and Catherine Duchess of Cambridge meet locals during a visit Trench Town, the birthplace of reggae in Kingston, Jamaica, on day four of their tour of the Caribbean on behalf of the Queen to mark her Platinum Jubilee. -PICTURED: Catherine Duchess of Cambridge -PHOTO by: Chris Jackson/PA Images/INSTARimages.com Disclaimer: This is an editorial, rights-managed image. Please contact INSTAR Images for licensing fee and rights information at sales@instarimages.com or call +1 212 414 0207. This image may not be published in any way that is, or might be deemed to be, defamatory, libelous, pornographic, or obscene. Please consult our sales department for any clarification needed prior to publication and use. INSTAR Images reserves the right to pursue unauthorized users of this material. If you are in violation of our intellectual property rights or copyright you may be liable for damages, loss of income, any profits you derive from the unauthorized use of this material and, where appropriate, the cost of collection and/or any statutory damages awarded For images containing underage children: Be advised that some Countries may have restricted privacy laws against publishing images of underage children. Inform yourself! Underage children may need to be removed or have their face pixelated before publishing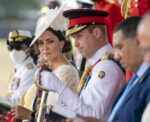 North America Rights Only – Kingston, Jamaica -20220324-Royal Visit to the Caribbean – Day 6Prince William and Catherine Duchess of Cambridge attend the inaugural Commissioning Parade for service personnel from across the Caribbean who have recently completed the Caribbean Military Academy's Officer Training Program, in Kingston, Jamaica, on day six of their tour of the Caribbean on behalf of the Queen to mark her Platinum Jubilee. -PICTURED: Prince William and Catherine Duchess of Cambridge-PHOTO by: Jane Barlow/PA Images/INSTARimages.comDisclaimer:This is an editorial, rights-managed image. Please contact INSTAR Images for licensing fee and rights information at sales@instarimages.com or call +1 212 414 0207. This image may not be published in any way that is, or might be deemed to be, defamatory, libelous, pornographic, or obscene. Please consult our sales department for any clarification needed prior to publication and use. INSTAR Images reserves the right to pursue unauthorized users of this material. If you are in violation of our intellectual property rights or copyright you may be liable for damages, loss of income, any profits you derive from the unauthorized use of this material and, where appropriate, the cost of collection and/or any statutory damages awardedFor images containing underage children: Be advised that some Countries may have restricted privacy laws against publishing images of underage children. Inform yourself! Underage children may need to be removed or have their face pixelated before publishing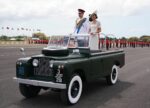 North America Rights Only – Kingston, Jamaica -20220324-Royal Visit to the Caribbean – Day 6 Prince William and Catherine Duchess of Cambridge attend the inaugural Commissioning Parade for service personnel from across the Caribbean who have recently completed the Caribbean Military Academy's Officer Training Program, in Kingston, Jamaica, on day six of their tour of the Caribbean on behalf of the Queen to mark her Platinum Jubilee. -PICTURED: Prince William and Catherine Duchess of Cambridge -PHOTO by: Jane Barlow/PA Images/INSTARimages.com Disclaimer: This is an editorial, rights-managed image. Please contact INSTAR Images for licensing fee and rights information at sales@instarimages.com or call +1 212 414 0207. This image may not be published in any way that is, or might be deemed to be, defamatory, libelous, pornographic, or obscene. Please consult our sales department for any clarification needed prior to publication and use. INSTAR Images reserves the right to pursue unauthorized users of this material. If you are in violation of our intellectual property rights or copyright you may be liable for damages, loss of income, any profits you derive from the unauthorized use of this material and, where appropriate, the cost of collection and/or any statutory damages awarded For images containing underage children: Be advised that some Countries may have restricted privacy laws against publishing images of underage children. Inform yourself! Underage children may need to be removed or have their face pixelated before publishing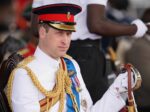 North America Rights Only – Kingston, Jamaica -20220324-Royal Visit to the Caribbean – Day 6Prince William and Catherine Duchess of Cambridge attend the inaugural Commissioning Parade for service personnel from across the Caribbean who have recently completed the Caribbean Military Academy's Officer Training Program, in Kingston, Jamaica, on day six of their tour of the Caribbean on behalf of the Queen to mark her Platinum Jubilee. -PICTURED: Prince William-PHOTO by: Jane Barlow/PA Images/INSTARimages.comDisclaimer:This is an editorial, rights-managed image. Please contact INSTAR Images for licensing fee and rights information at sales@instarimages.com or call +1 212 414 0207. This image may not be published in any way that is, or might be deemed to be, defamatory, libelous, pornographic, or obscene. Please consult our sales department for any clarification needed prior to publication and use. INSTAR Images reserves the right to pursue unauthorized users of this material. If you are in violation of our intellectual property rights or copyright you may be liable for damages, loss of income, any profits you derive from the unauthorized use of this material and, where appropriate, the cost of collection and/or any statutory damages awardedFor images containing underage children: Be advised that some Countries may have restricted privacy laws against publishing images of underage children. Inform yourself! Underage children may need to be removed or have their face pixelated before publishing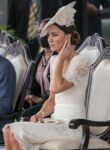 North America Rights Only – Kingston, Jamaica -20220324-Royal Visit to the Caribbean – Day 6Prince William and Catherine Duchess of Cambridge attend the inaugural Commissioning Parade for service personnel from across the Caribbean who have recently completed the Caribbean Military Academy's Officer Training Program, in Kingston, Jamaica, on day six of their tour of the Caribbean on behalf of the Queen to mark her Platinum Jubilee. -PICTURED: Catherine Duchess of Cambridge-PHOTO by: Jane Barlow/PA Images/INSTARimages.comDisclaimer:This is an editorial, rights-managed image. Please contact INSTAR Images for licensing fee and rights information at sales@instarimages.com or call +1 212 414 0207. This image may not be published in any way that is, or might be deemed to be, defamatory, libelous, pornographic, or obscene. Please consult our sales department for any clarification needed prior to publication and use. INSTAR Images reserves the right to pursue unauthorized users of this material. If you are in violation of our intellectual property rights or copyright you may be liable for damages, loss of income, any profits you derive from the unauthorized use of this material and, where appropriate, the cost of collection and/or any statutory damages awardedFor images containing underage children: Be advised that some Countries may have restricted privacy laws against publishing images of underage children. Inform yourself! Underage children may need to be removed or have their face pixelated before publishing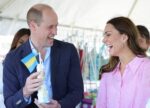 North America Rights Only – Abaco, Bahamas -20220326- The Duke and Duchess of Cambridge during a visit to Daystar Evangelical Church Abaco in The Bahamas, to learn about the impact of Hurricane Dorian in 2019 and to see how communities are still being rebuilt, on day eight of their tour of the Caribbean on behalf of the Queen to mark her Platinum Jubilee. Abaco, a chain of islands and barrier cays in the northern Bahamas, was hit by winds of up to 185mph during Hurricane Dorian in 2019 leaving 75% of homes across the chain of islands damaged and resulting in tragic loss of life. During a visit to Fish Fry in Abaco, a traditional Bahamian culinary/. During a visit to the Memorial Wall to remember victims of the 2019 hurricane at the Memorial Garden in Abaco. During a visit to Grand Bahama Children's Home, which provides a home environment to vulnerable children who are not able to live with their families -PICTURED: Prince William, Catherine Duchess of Cambridge -PHOTO by: INSTARimages.com Disclaimer: This is an editorial, rights-managed image. Please contact INSTAR Images for licensing fee and rights information at sales@instarimages.com or call +1 212 414 0207. This image may not be published in any way that is, or might be deemed to be, defamatory, libelous, pornographic, or obscene. Please consult our sales department for any clarification needed prior to publication and use. INSTAR Images reserves the right to pursue unauthorized users of this material. If you are in violation of our intellectual property rights or copyright you may be liable for damages, loss of income, any profits you derive from the unauthorized use of this material and, where appropriate, the cost of collection and/or any statutory damages awarded For images containing underage children: Be advised that some Countries may have restricted privacy laws against publishing images of underage children. Inform yourself! Underage children may need to be removed or have their face pixelated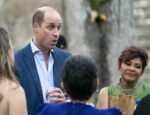 North America Rights Only – San Ignacio, Belize -20220321-At a special reception at the Mayan ruins at Cahal Pech in San Ignacio, Belize, hosted by Froyla Tzalam, the Governor General of Belize, in celebration of the Queen's Platinum Jubilee, during day three of their tour of the Caribbean.-PICTURED: Prince William-PHOTO by: INSTARimages.comDisclaimer:This is an editorial, rights-managed image. Please contact INSTAR Images for licensing fee and rights information at sales@instarimages.com or call +1 212 414 0207. This image may not be published in any way that is, or might be deemed to be, defamatory, libelous, pornographic, or obscene. Please consult our sales department for any clarification needed prior to publication and use. INSTAR Images reserves the right to pursue unauthorized users of this material. If you are in violation of our intellectual property rights or copyright you may be liable for damages, loss of income, any profits you derive from the unauthorized use of this material and, where appropriate, the cost of collection and/or any statutory damages awardedFor images containing underage children: Be advised that some Countries may have restricted privacy laws against publishing images of underage children. Inform yourself! Underage children may need to be removed or have their face pixelated before publishing