The Duke and Duchess of Cambridge's Colonialist Cosplay Caribbean Tour was not *just* a flop. It was so bad that there will likely be a high-level inquiry into just how it happened and where everything went wrong. I have some much-needed information for the inevitable inquest: the problem is William and Kate. They are dumb, dull, petty and incapable of steering out of disaster. They did all of the colonialist cosplay because they wanted to, because they were too stupid to realize that it wouldn't land the way they were expecting. Of course, there's an eagerness to blame everyone besides William and Kate. And in truth, I do think Buttons and Moose Knuckle were poorly served and poorly advised. But they were and are the Future Future King and Queen, surely they'll shoulder much of the blame? LOL. Some highlights from this Daily Mail piece full of negative commentary:
Maybe I'm just not seeing it, but so far, there are only rumors of an inquest, or commentators saying that an inquest is inevitable. While I think it's hilarious that the Flop Tour was such a disaster that the government might have to spend time and money investigating it, I also think… let's not? Like, an inquest would only be an exercise in bureaucratic ass-covering and y'all know that no one would actually say "Will and Kate were super-keen on dressing up like colonialists and no one told them 'no.'" Also, this: "Incompetent, uneducated and lazy, they totally failed to anticipate the problems which William and Kate would encounter." Incompetent, uneducated and lazy??? Will and Kate only want to work with people they relate to.
Photos courtesy of Instar, Backgrid.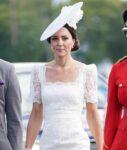 North America Rights Only – Kingston, Jamaica -20220324-Royal Visit to the Caribbean – Day 6 Prince William and Catherine Duchess of Cambridge attend the inaugural Commissioning Parade for service personnel from across the Caribbean who have recently completed the Caribbean Military Academy's Officer Training Program, in Kingston, Jamaica, on day six of their tour of the Caribbean on behalf of the Queen to mark her Platinum Jubilee. -PICTURED: Catherine Duchess of Cambridge -PHOTO by: Jane Barlow/PA Images/INSTARimages.com Disclaimer: This is an editorial, rights-managed image. Please contact INSTAR Images for licensing fee and rights information at sales@instarimages.com or call +1 212 414 0207. This image may not be published in any way that is, or might be deemed to be, defamatory, libelous, pornographic, or obscene. Please consult our sales department for any clarification needed prior to publication and use. INSTAR Images reserves the right to pursue unauthorized users of this material. If you are in violation of our intellectual property rights or copyright you may be liable for damages, loss of income, any profits you derive from the unauthorized use of this material and, where appropriate, the cost of collection and/or any statutory damages awarded For images containing underage children: Be advised that some Countries may have restricted privacy laws against publishing images of underage children. Inform yourself! Underage children may need to be removed or have their face pixelated before publishing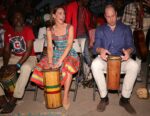 North America Rights Only – Kingston, Jamaica -20220322- Prince William and Catherine Duchess of Cambridge meet locals during a visit Trench Town, the birthplace of reggae in Kingston, Jamaica, on day four of their tour of the Caribbean on behalf of the Queen to mark her Platinum Jubilee. -PICTURED: Prince William and Catherine Duchess of Cambridge -PHOTO by: Chris Jackson/PA Images/INSTARimages.com Disclaimer: This is an editorial, rights-managed image. Please contact INSTAR Images for licensing fee and rights information at sales@instarimages.com or call +1 212 414 0207. This image may not be published in any way that is, or might be deemed to be, defamatory, libelous, pornographic, or obscene. Please consult our sales department for any clarification needed prior to publication and use. INSTAR Images reserves the right to pursue unauthorized users of this material. If you are in violation of our intellectual property rights or copyright you may be liable for damages, loss of income, any profits you derive from the unauthorized use of this material and, where appropriate, the cost of collection and/or any statutory damages awarded For images containing underage children: Be advised that some Countries may have restricted privacy laws against publishing images of underage children. Inform yourself! Underage children may need to be removed or have their face pixelated before publishing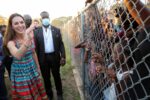 North America Rights Only – Kingston, Jamaica -20220322- Prince William and Catherine Duchess of Cambridge meet locals during a visit Trench Town, the birthplace of reggae in Kingston, Jamaica, on day four of their tour of the Caribbean on behalf of the Queen to mark her Platinum Jubilee. -PICTURED: Catherine Duchess of Cambridge -PHOTO by: Chris Jackson/PA Images/INSTARimages.com Disclaimer: This is an editorial, rights-managed image. Please contact INSTAR Images for licensing fee and rights information at sales@instarimages.com or call +1 212 414 0207. This image may not be published in any way that is, or might be deemed to be, defamatory, libelous, pornographic, or obscene. Please consult our sales department for any clarification needed prior to publication and use. INSTAR Images reserves the right to pursue unauthorized users of this material. If you are in violation of our intellectual property rights or copyright you may be liable for damages, loss of income, any profits you derive from the unauthorized use of this material and, where appropriate, the cost of collection and/or any statutory damages awarded For images containing underage children: Be advised that some Countries may have restricted privacy laws against publishing images of underage children. Inform yourself! Underage children may need to be removed or have their face pixelated before publishing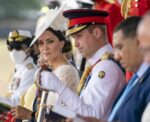 North America Rights Only – Kingston, Jamaica -20220324-Royal Visit to the Caribbean – Day 6 Prince William and Catherine Duchess of Cambridge attend the inaugural Commissioning Parade for service personnel from across the Caribbean who have recently completed the Caribbean Military Academy's Officer Training Program, in Kingston, Jamaica, on day six of their tour of the Caribbean on behalf of the Queen to mark her Platinum Jubilee. -PICTURED: Prince William and Catherine Duchess of Cambridge -PHOTO by: Jane Barlow/PA Images/INSTARimages.com Disclaimer: This is an editorial, rights-managed image. Please contact INSTAR Images for licensing fee and rights information at sales@instarimages.com or call +1 212 414 0207. This image may not be published in any way that is, or might be deemed to be, defamatory, libelous, pornographic, or obscene. Please consult our sales department for any clarification needed prior to publication and use. INSTAR Images reserves the right to pursue unauthorized users of this material. If you are in violation of our intellectual property rights or copyright you may be liable for damages, loss of income, any profits you derive from the unauthorized use of this material and, where appropriate, the cost of collection and/or any statutory damages awarded For images containing underage children: Be advised that some Countries may have restricted privacy laws against publishing images of underage children. Inform yourself! Underage children may need to be removed or have their face pixelated before publishing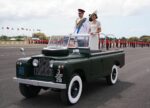 North America Rights Only – Kingston, Jamaica -20220324-Royal Visit to the Caribbean – Day 6 Prince William and Catherine Duchess of Cambridge attend the inaugural Commissioning Parade for service personnel from across the Caribbean who have recently completed the Caribbean Military Academy's Officer Training Program, in Kingston, Jamaica, on day six of their tour of the Caribbean on behalf of the Queen to mark her Platinum Jubilee. -PICTURED: Prince William and Catherine Duchess of Cambridge -PHOTO by: Jane Barlow/PA Images/INSTARimages.com Disclaimer: This is an editorial, rights-managed image. Please contact INSTAR Images for licensing fee and rights information at sales@instarimages.com or call +1 212 414 0207. This image may not be published in any way that is, or might be deemed to be, defamatory, libelous, pornographic, or obscene. Please consult our sales department for any clarification needed prior to publication and use. INSTAR Images reserves the right to pursue unauthorized users of this material. If you are in violation of our intellectual property rights or copyright you may be liable for damages, loss of income, any profits you derive from the unauthorized use of this material and, where appropriate, the cost of collection and/or any statutory damages awarded For images containing underage children: Be advised that some Countries may have restricted privacy laws against publishing images of underage children. Inform yourself! Underage children may need to be removed or have their face pixelated before publishing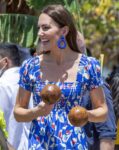 Belize, BELIZE – The Duke and Duchess will travel to Hopkins, a small village on the coast that is considered the cultural centre of the Garifuna community in Belize. Here, Their Royal Highnesses will spend time with Garifuna people and witness a demonstration of Garifuna culture. They will then meet a small group of marine conservation specialists to learn more about Belize's unique marine environment. Pictured: Prince William and wife Kate Middleton, Catherine, Duchess of Cambridge BACKGRID USA 20 MARCH 2022 USA: +1 310 798 9111 / usasales@backgrid.com UK: +44 208 344 2007 / uksales@backgrid.com *UK Clients – Pictures Containing Children Please Pixelate Face Prior To Publication*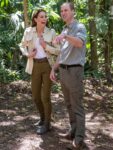 Chiquibul Forest, BELIZE – The Duke and Duchess of Cambridge visit the British Army Training Support Unit in the which delivers tropical environment training to troops from the UK and international partners. Pictured: Prince William, Duke of Cambridge, Catherine, Duchess of Cambridge BACKGRID USA 21 MARCH 2022 USA: +1 310 798 9111 / usasales@backgrid.com UK: +44 208 344 2007 / uksales@backgrid.com *UK Clients – Pictures Containing Children Please Pixelate Face Prior To Publication*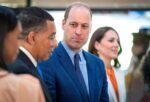 Kingston, JAMAICA – Prince William, Duke of Cambridge and Catherine, Duchess of Cambridge have an official meeting with Jamaican Prime Minister Andrew Holness and his wife Juliet Holness at the Prime Minister's Office in Kingston. Pictured: Prince William, Duke of Cambridge, Catherine, Duchess of Cambridge BACKGRID USA 23 MARCH 2022 USA: +1 310 798 9111 / usasales@backgrid.com UK: +44 208 344 2007 / uksales@backgrid.com *UK Clients – Pictures Containing Children Please Pixelate Face Prior To Publication*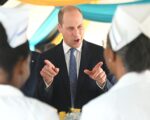 Nassau, BAHAMAS – Prince William and wife Kate Middleton, Catherine, Duchess of Cambridge pictured Meeting with Key Workers at the Garden of Remembrance, Nassau, Bahamas, Recognising the impact of COVID-19 in The Bahamas, The Duke and Duchess will meet key workers who have been on the frontline of the response to the pandemic. They will hear about their experiences and thank them for their incredible work in helping to keep local communities safe. Pictured: Prince William BACKGRID USA 25 MARCH 2022 USA: +1 310 798 9111 / usasales@backgrid.com UK: +44 208 344 2007 / uksales@backgrid.com *UK Clients – Pictures Containing Children Please Pixelate Face Prior To Publication*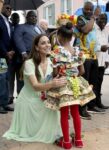 Nassau, BAHAMAS – Prince William and wife Kate Middleton, Catherine, Duchess of Cambridge are treated to a parade at Nassau, Bahamas during the Royals 3rd and final stop on their 2022 Platinum Jubilee Caribbean Tour. Pictured: Catherine Duchess of Cambridge – Kate Middleton BACKGRID USA 25 MARCH 2022 USA: +1 310 798 9111 / usasales@backgrid.com UK: +44 208 344 2007 / uksales@backgrid.com *UK Clients – Pictures Containing Children Please Pixelate Face Prior To Publication*
North America Rights Only – London, UK -20220323- Prince William and Catherine Duchess of Cambridge arrive for a dinner hosted by Patrick Allen, Governor General of Jamaica, at King's House, in Kingston, Jamaica, on day five of the royal tour of the Caribbean on behalf of the Queen to mark her Platinum Jubilee. -PICTURED: Prince William, Catherine Duchess of Cambridge -PHOTO by: Toby Meville/PA Images/INSTARimages.com Disclaimer: This is an editorial, rights-managed image. Please contact INSTAR Images for licensing fee and rights information at sales@instarimages.com or call +1 212 414 0207. This image may not be published in any way that is, or might be deemed to be, defamatory, libelous, pornographic, or obscene. Please consult our sales department for any clarification needed prior to publication and use. INSTAR Images reserves the right to pursue unauthorized users of this material. If you are in violation of our intellectual property rights or copyright you may be liable for damages, loss of income, any profits you derive from the unauthorized use of this material and, where appropriate, the cost of collection and/or any statutory damages awarded For images containing underage children: Be advised that some Countries may have restricted privacy laws against publishing images of underage children. Inform yourself! Underage children may need to be removed or have their face pixelated before publishing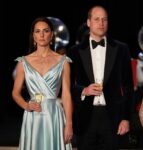 North America Rights Only – New Providence, Bahamas -20220325-The Duke and Duchess of Cambridge attend a reception hosted by the Governor General of the Bahamas Sir Cornelius Alvin Smith, at the Baha Mar resort on the island of New Providence in the Bahamas to with meet community leaders and people from across the Bahamas' many islands, on day seven of their tour of the Caribbean on behalf of the Queen to mark her Platinum Jubilee -PICTURED: Catherine Duchess of Cambridge and Prince William -PHOTO by: PA IMAGES/INSTARimages.com Disclaimer: This is an editorial, rights-managed image. Please contact INSTAR Images for licensing fee and rights information at sales@instarimages.com or call +1 212 414 0207. This image may not be published in any way that is, or might be deemed to be, defamatory, libelous, pornographic, or obscene. Please consult our sales department for any clarification needed prior to publication and use. INSTAR Images reserves the right to pursue unauthorized users of this material. If you are in violation of our intellectual property rights or copyright you may be liable for damages, loss of income, any profits you derive from the unauthorized use of this material and, where appropriate, the cost of collection and/or any statutory damages awarded For images containing underage children: Be advised that some Countries may have restricted privacy laws against publishing images of underage children. Inform yourself! Underage children may need to be removed or have their face pixelated before publishing